First-half remittances to HCMC surge 22.34% despite Covid-19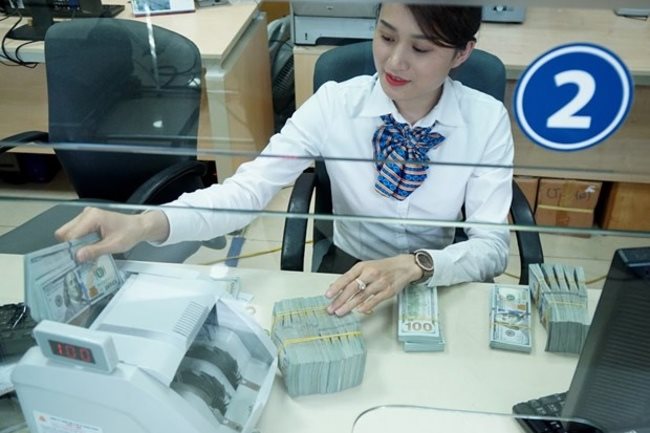 A bank teller counts banknotes by a banknote counting machine. HCMC received US$3.2 billion worth of remittances in the first half of 2021 - PHOTO: VNA
HCMC - Incoming remittances to HCMC amounted to US$3.2 billion in the first half of this year, surging 22.34% compared with the same period last year, despite the negative impact of the Covid-19 pandemic.
Nguyen Hoang Minh, deputy director of the HCMC branch of the State Bank of Vietnam, said this was beyond expectations given the numerous difficulties resulting from the fast community spread of the coronavirus in many parts of the country.
According to Minh, the amounts of money sent into the country from abroad went mainly into manufacturing and trade, contributing to the socioeconomic development of the city and the stable foreign currency supply of the whole country.
The city expected to get some US$6.5 billion in incoming remittances this year. Therefore, cash remitted to the city from abroad in the year's first half had met around 50% of the forecast.
For many years, incoming remittances to HCMC have been rising and the city leads the country in terms of incoming remittances. The city received US$6.1 billion in remittances last year, up 15% from 2019.
Vietnamese living abroad sent home US$17.2 billion in 2020, a year-on-year increase of 3%, making Vietnam the world's ninth biggest remittance recipient, according to the World Bank.
This was the fourth straight year that Vietnam had been among the top 10 recipients of remittances from abroad. The figure was US$13.8 billion in 2017, US$15.9 billion in 2018 and US$17 billion in 2019.
In East Asia and the Pacific region, Vietnam was the third biggest remittance recipient after China and the Philippines.
The World Bank expected remittance flows to low- and middle-income countries to increase by 2.6% to US$553 billion in 2021 and by 2.2% to US$565 billion in 2022.
TAG: