IFC helps expand lending to SMEs and boost climate finance in Vietnam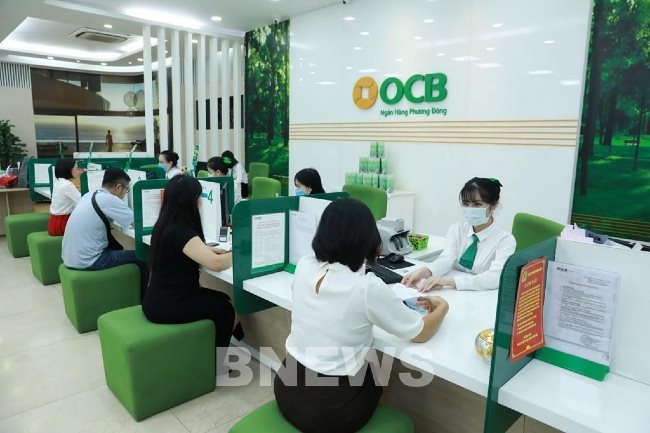 Transactions at an OBC branch. To facilitate greater private sector contribution for a green and sustainable growth in Vietnam, IFC is providing a US$100 million long-term loan to the bank - PHOTO: VNA
HCMC - The International Finance Corporation (IFC) is providing a US$100 million long-term loan to the Orient Commercial Joint Stock Bank (OCB) to help expand lending to small and medium enterprises (SMEs) and boost financing, especially for climate-friendly projects in Vietnam.
The investment of IFC, a member of the World Bank Group, will help OCB improve its outreach to SMEs in Vietnam, which are facing a financing gap of US$21 billion, equivalent to 11.2% of the country's gross domestic product.
With IFC's support, OCB expects to double its SME lending portfolio by 2024 by leveraging its digital banking platform and developing products that cater to the sector's needs.
Some of the emerging areas that SMEs in Vietnam are seeking financing for include renewable energy, energy efficiency and climate-smart solutions, which can help them grow sustainably, while contributing to reducing greenhouse-gas emissions.
The current share of climate financing as a percentage of total bank financing in Vietnam is just about 5%, or US$10.3 billion, and is expected to increase significantly in the coming years.
As the country aims to reduce greenhouse-gas emissions by 9% by 2030 to mitigate the climate change impact, this presents a US$753 billion climate-smart investment opportunity for Vietnam between 2016 and 2030, according to an IFC study.
To help OCB tap into this huge lending potential, US$50 million, or half of the IFC funding, will be earmarked for climate-friendly projects, creating new options for businesses to obtain green financing.
"While we have been implementing green finance since 2015, our priority areas include hi-tech agriculture, renewable energy and climate-friendly projects, among others. IFC's funding will allow OCB to contribute to the country's climate goals while further offering preferential green financing for smaller businesses and promoting energy efficiency, improved health for consumers and sustainable growth," said Nguyen Dinh Tung, OCB general director.
According to Vivek Pathak, IFC global director for Climate Business, while the Covid-19 pandemic has upended lives and economies globally, it also presents a rare opportunity for governments to determine the type of economies they want to rebuild and allocate limited resources accordingly.
"Rebuilding with a strategic focus on climate-smart approaches will help create jobs and attract investments while enabling a smooth transition to a low-carbon economic growth trajectory," he added.
While the State Bank of Vietnam has been promoting green banking over the past few years, the climate-finance market is still at its nascent stage and banks are now considering a systematic approach toward climate finance.
IFC's investment in OCB is part of its ongoing efforts to promote sustainability and responsible financing in the country's banking sector. With IFC's support, the State Bank of Vietnam has issued guidelines for credit institutions to incorporate environmental and social risk evaluations into their transactions and increase green lending.
TAG: