VN-Index plunges as hundreds of stocks end in red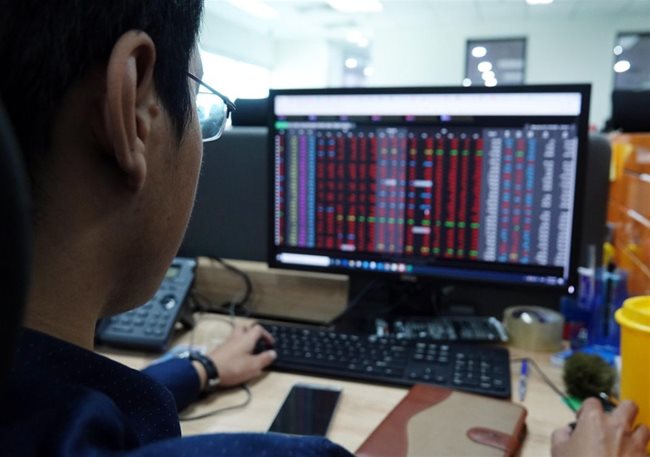 A man monitors stock prices. The VN-Index of the southern market lost 50.84 points today, July 12 - PHOTO: VNA
HCMC – As losers outstripped gainers by 374 to 36, the VN-Index of the Hochiminh Stock Exchange continued its downward spiral to close down 50.84 points, or 3.77%, from the session earlier, at 1,296.3 today, July 12.
On the southern bourse, over 961.7 million shares worth VND31.6 trillion were transacted at the close, up 26.5% in volume and 23% in value against the previous session. Block deals contributed VND2.6 trillion to the total value.
In the VN30 basket, consumer goods firm MSN, real estate developer NVL, mobile phone retailer MWG and local budget carrier VJC made mild gains, while the rest lost ground.
Many largecaps such as lenders BID and TCB, insurer BVH, gas firm GAS, property enterprise VIC and housing developer VHM dipped by 4%-6% at the end.
Other stocks in the groups of bank, steel and securities stocks, including ACB, SSB, VIB, OCB, HSG, NKG, HCM and CTS reported a sharp fall of over 6%.
Steel maker HPG and lenders STB, TCB, MBB and CTG were among the top five stocks by liquidity on the southern market. Specifically, HPG reported a matching volume of 75.5 million shares, followed by STB with 62.6 million shares and TCB with 58.2 million shares changing hands.
On the northern market, the HNX-Index shed 4.48%, or 13.75 points, at 292.98 at the close. Trade volume totaled 183.3 million shares worth VND3.96 trillion changing hands.
Many large caps such as securities stocks SHS and VND, industrial development firm IDC and lender BAB were the main drag on the Hanoi Stock Exchange.
Lender SHB was the most actively traded stock on the northern bourse by liquidity with over 41.6 million shares changing hands, but ended down 8.8%.
TAG: