Fourth Covid-19 wave affects 12.8 million laborers in Q2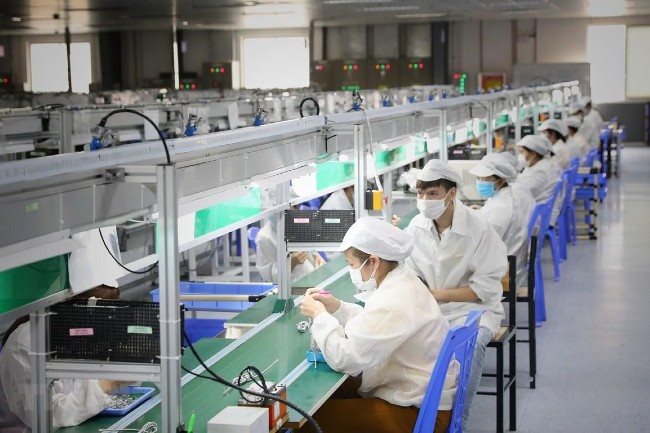 People work at an industrial zone. Some 12.8 million laborers nationwide were negatively affected by Covid-19 in the second quarter of 2021 - PHOTO: VNA
HCMC - The fourth Covid-19 wave beginning late April negatively affected some 12.8 million laborers nationwide in the second quarter of 2021, according to the General Statistics Office of Vietnam.
Among them, 557,000 people lost their jobs, accounting for 4.4% of the total, 4.1 million were temporarily out of work (31.8%), 4.3 million had their working hours cut (34.1%) and 8.5 million saw their income reduce (66.4%).
Addressing a meeting of the General Statistics Office on July 6, Pham Hoai Nam, chairman of the Department of Population and Labor Statistics, said the number of laborers affected by the pandemic in the second quarter of this year increased 40% compared with the first quarter.
"The fourth Covid-19 wave seriously affected the employment recovery and income improvement in the second quarter, especially in major cities such as Hanoi, HCMC and their neighboring provinces," he said.
Urban laborers were more vulnerable than those in rural areas. Some 21.9% of laborers in urban areas were negatively affected by the pandemic, while the figure was 14.3% in rural areas.
Nam suggested that the Government accelerate the Covid-19 vaccination campaign to reach herd immunity soon, with priority given to frontline workers and laborers at industrial parks and export processing zones.
Besides, job centers nationwide should be more active in connecting recruiters and job seekers to help people find suitable jobs.
Nguyen Trung Tien, vice chairman of the General Statistics Office, said the Government needs to effectively implement 12 supporting policies for employers and employees affected by Covid-19.
Tien expected that the new rescue package that the Government announced on July 1, with improvements in the administrative procedures, will offer laborers and businesses easier access to financial support.
"The effective implementation of rescue packages is expected to help the labor market recover in the second half of this year," he said.
TAG: