Airbus Training Center at Vietjet to offer A320 type-rating courses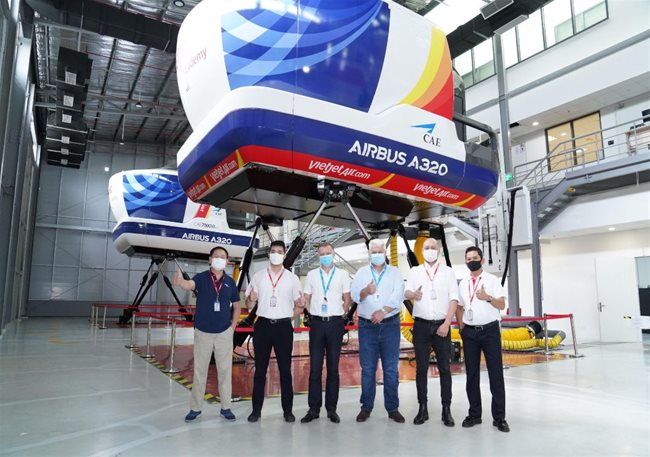 Representatives of Vietjet and the Airbus Vietnam Training Center pose for a group photo - PHOTO: COURTESY OF VIETJET
HCMC – The Airbus Vietnam Training Center (AVTC) has received regulatory approvals by the Civil Aviation Authority of Vietnam (CAAV) and the European Union Aviation Safety Agency (EASA) for the provision of A320 type-rating courses.
AVTC owns two A320 full-flight simulators and two A320 flight-training devices, which are located at the Vietjet Aviation Academy in HCMC and are operated by Airbus and Vietjet.
The facilities are currently used primarily by Vietjet for recurrent and instructor training. AVTC has plans to install a third simulator to meet Vietjet's increasing pilot training needs.
Each A320 type-rating course will last over a six-week period and AVTC expects to train up to eight pilots each month.
"We are here to meet Vietjet's pilot training needs. We are pleased to support Vietjet as it continues to invest in its future through the latest training services," said William Tauzin, General Manager of AVTC.
Luong The Phuc, Vietjet vice president of training, said, "We congratulate AVTC on receiving these important regulatory approvals. The Vietjet Aviation Academy is a comprehensive training facility to train pilots, cabin crew, engineers and aviation staff, for not only Vietjet but also our regional peers."
Besides the simulators and flight-training devices from Airbus, the academy is also equipped with cabin simulators, emergency training facilities and Olympic-standard wave pools, he added.
Housed within the Vietjet Training Academy, the Airbus-managed AVTC was established in October 2018 under an agreement between Airbus and Vietjet. Airbus brings its processes, tools and expertise to provide state-of-the-art training devices as well as its internationally recognized course content. Besides A320 type-rating training, AVTC also provides other flight training services such as instructor courses.
TAG: