Nearly 1.3 million disadvantaged households access to preferential loans in H1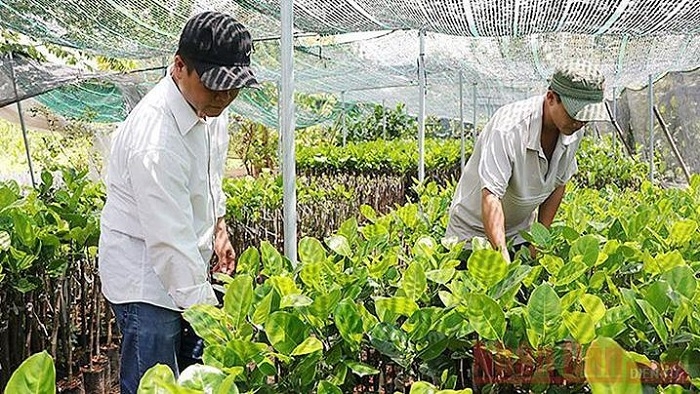 A seedling production model helps to create stable income for locals in Cho Lach district, Ben Tre province. (Photo: NDO/Phuc Nhan)   
NDO – In the first six months of 2021, there were nearly 1.3 million disadvantaged households and other policy beneficiaries accessed to preferential loans from the Vietnam Bank for Social Policies (VBSP).
The figure was announced at a teleconference held on July 5 to evaluate the bank's operation in the first half this year and discuss tasks for the second half.
Speaking at the briefing, VBSP General Director Duong Quyet Thang informed that as of June 30, the total policy credit capital reached over VND 247.3 trillion, an increase of VND13.9 trillion compared to 2020. Meanwhile, entrusted capital from the localities reached VND 23.4 trillion, accounting for 9.3% of the total, up VND3.1 trillion, equalling 105% of the 2021 set plan.
Policy credit continues to actively support policy beneficiaries to develop production and business operation, improve their quality of life, and support them to overcome the impact of the COVID-19 epidemic to contribute to the realisation of objectives in poverty reduction, new rural area construction, and social security assurance.
In which, total loans offered in the first six months of the year reached over VND48.2 trillion, with nearly 1.3 million poor households, near-poor households, newly-escaped poverty households and other policy beneficiaries having access to such preferential loans.
Policy credit capital has contributed to timely support investment in production and business operation, creating jobs for nearly 249,000 employees, with 1,600 guestworkers going to work abroad, as well as helping more than 16,000 students with difficult circumstances access to study loans, building 879,000 clean water supply and sanitation works in rural areas and constructing 3,600 houses for policy beneficiaries.
In the second half, Thang requested the bank's affiliates in the system to actively advise the Government, ministries, departments, sectors and localities at all levels in well implementing the Party and State's policies, with a focus on increasing resources from the local level to support the implementation of multi-dimensional poverty reduction, social security assurance and new rural construction.
The bank was asked to promote lending in policy credit programmes according to assigned plan targets to promptly support the poor and other beneficiaries.
In particular, it should focus on implementing the loan programme to compensate wages for labourers and support employers facing difficulties due to the COVID-19 pandemic.
TAG: