Hong Bang International University to train overseas students in medicine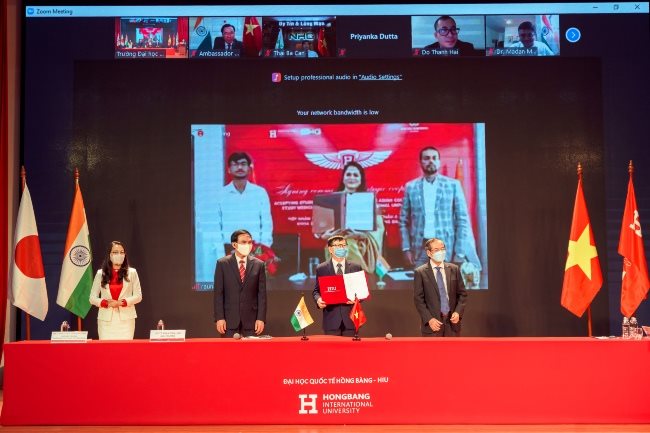 Hong Bang International University and Aieraa Overseas Studies sign a strategic cooperation deal to provide high-quality training for Indian and Asian students in medicine on July 1 - PHOTO: HIU
HCMC - Hong Bang International University (HIU) on July 1 signed a strategic cooperation deal with India's Aieraa Overseas Studies to provide high-quality training for Indian and Asian students in medicine starting from the academic year 2021-2022.
The signing ceremony was held online from two locations - HCMC and India - with the participation of leaders from the two sides.
Aieraa Overseas Studies of India is an organization with extensive experience in recruiting and sending Indian students to countries around the world to study, especially in the field of medicine. However, for the first time, Aieraa Overseas Studies has come to Vietnam.
According to the agreement, HIU is the exclusive unit to receive and train students of India and the Asian countries in medicine starting from the academic year 2021-2022.
Indian students will be directly admitted and enrolled by the Aieraa Overseas Studies of India, based on three criteria - academic conditions, health conditions and language conditions---in accordance with the Education and Training regulation on the management of foreigners studying in Vietnam.
HIU will conduct medical training under the program entirely in English, based on the standard program of the Ministry of Education and Training and the Ministry of Health of Vietnam as well as medical training programs of developed countries in the world.
International students, especially Indian students, will study in a dynamic learning environment with various sources of academic research materials and modern teaching equipment.
Besides providing theoretical and clinical knowledge, international students will also learn Vietnamese and about Vietnamese culture. In particular, the students will be trained and work as interns at large and prestigious hospitals which are in the university's network to develop their professional skills.
The medical training program has a total training period of six years, following which the students will be granted a degree.
"In the context that the whole world is making efforts to cooperate in fighting against the Covid-19 pandemic, the signing ceremony of the medical doctor training cooperation between Hong Bang International University and Aieraa Overseas Studies has special significance. Our cooperation is a living testament to the global effort, an urgent effort today and always necessary for the long-term future of the people, especially for Vietnam and India," said Do Manh Cuong, chairman of the HIU Council.
Deepa R, director of Aieraa Overseas Studies, said, "I hope that through this program, more Indian students and students from other Asian countries will study at the university with adequate and modern facilities along with a team of high-quality, scientific, technical and humane lecturers at the Hong Bang International University. I also hope that not only Indian students, but more and more students in the region will come to HCMC."
"Vietnam has a lot of experts in the field of health and medicine so I am confident that Hong Bang International University will train many good doctors to serve the community," said Madan Mohan Sethi, Indian Consul General in HCMC.
TAG: