Stock market rebounds thanks to strong cash flow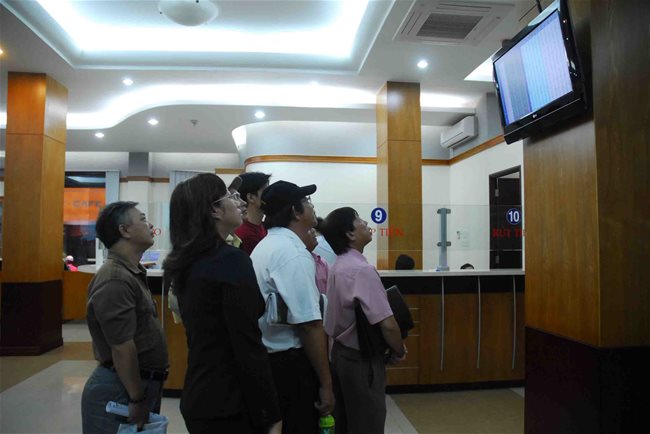 Investors watch stock prices on a TV screen. The benchmark VN-Index of the Hochiminh Stock Exchange rose 0.61% to close at 1,417.08 points today, July 1 – PHOTO: TRAN LINH
HCMC – Strong cash flow boosted liquidity of the local stock market, helping both the VN-Index and HNX-Index rebound today, July 1.
The benchmark VN-Index of the Hochiminh Stock Exchange rose 0.61%, or 8.53 points, to close at 1,417.08 points, with gaining stocks outnumbering decliners by 224 to 165.
The southern bourse saw over 753.56 million shares worth VND26.13 trillion changing hands, surging 27% in volume and 24% in value compared with the previous session. More than 54.2 million shares worth some VND2.52 trillion were traded in block deals, including nearly 12 million shares worth VND555 billion of construction firm VCG.
Securities stocks were the biggest gainers, with SSI soaring 4.5% to VND57,500 and HCM surging 5.7% to VND54,000. Both APG and VCI rose 4.2% to end at VND11,200 and 54,400, respectively.
VDS and FTS grew 6.8% to VND26,700 and VND39,400, respectively. AGR and CTS shot up to their respective ceiling prices of VND14,750 and VND24,800.
The major contributors also included bank stocks, with VPB going up 4% to VND70,400, HDB up 2.7% to VND36,450 and MSB up 2.6% to VND31,000. STB, TPB and TCB rose over 1%. CTG was the only bank stock that lost ground, down 0.6%.
Bank stocks were the outstanding cash magnets. VPB, STB and CTG had approximately 30 million shares changing hands each. MBB had 24.5 million shares traded while TCB and MSB had over 19 million shares traded each.
Some other large-cap stocks that gained ground included consumer goods producer MSN, real estate company PDR and steelmaker HPG, which rose 2.7% to VND113,500, 2.7% to VND95,900 and 2.5% to VND52,800, respectively. HPG led the southern bourse in terms of liquidity with over 39.6 million shares changing hands.
In contrast, real estate developer NVL, low-cost carrier VJC, housing firm VHM and mobile phone retailer MWG lost 0.6-0.8%.
In the group of speculative stocks, FIT, TSC, TGG, TID and VPH shot up to the ceiling prices.
Property developer FLC reversed course to end 0.8% higher. FLC was the second most actively traded stock on the southern bourse with over 32.1 million shares changing hands.
ROS, HQC, AAA, SCR, PVT, DXG, IJC, HAG, HAI, DCM, HBC and JVC dipped into the red. DAH and VOS fell to the floor prices.
On the Hanoi Stock Exchange, the HNX-Index added 0.74%, or 2.4 points, to end at 325.72 points, with 83 declining stocks and 80 gaining ones. There were more than 151 million shares worth some VND3.58 trillion changing hands.
Securities stocks stole the limelight with MBS, BSI and BVS shooting up to the ceiling prices. Other securities stocks such as SHS, VND, APS and TVB surged 4.5-7.9%.
Petroleum stock PVS took the lead in terms of liquidity with 22.78 million shares changing hands, followed by lender SHB with 19.1 million shares. However, PVS dropped 1.7% to VND28,300 and SHB fell 1% to VND28,400.
TAG: