VN-Index falls, ending three-session winning streak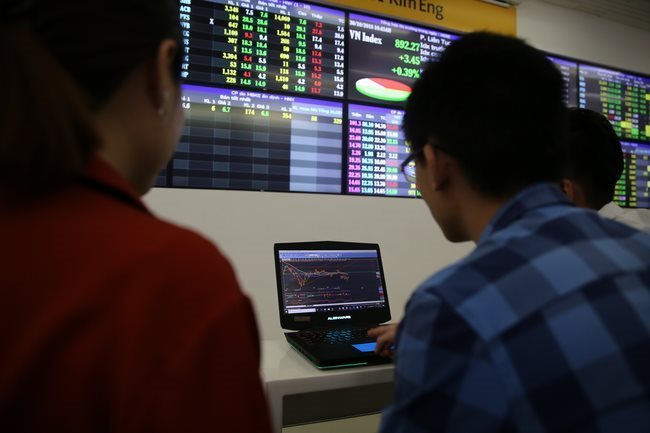 Investors follow stock movements at a securities firm in HCMC. The VN-Index of the Hochiminh Stock Exchange fell 0.11% to close at 1,408.55 points on Wednesday – PHOTO: THANH HOA
HCMC - The increased selling pressure made the VN-Index of the Hochiminh Stock Exchange inch down 0.11%, or 1.49 points, to 1,408.55 points today, June 30, ending its streak of three winning sessions.
Declining stocks outnumbered gainers by 233 to 139. The southern bourse saw 595 million shares worth more than VND21 trillion changing hands, falling 8% in volume and 1.3% in value compared with the previous session.
Some 63 million shares worth over VND3.3 trillion were traded in block deals, surging 67% in volume and 75% in value.
Some heavyweights that increased significantly were lender VCB and consumer goods producer MSN, which grew 2.1% to VND116,400 and 2.7% to VND114,400, respectively. VCB added 2.36 points to the VN-Index while MSN contributed 0.91 points.
Property developer VIC and retailer VRE rose slightly, up 0.8% to VND119,000 and 0.2% to VND31,750, respectively.
The biggest decliners were lenders CTG and TCB, which fell 2.2% and 1.5%, respectively.
CTG led the southern bourse in terms of liquidity with 31.4 million shares changing hands, followed by its peer MBB with nearly 26 million shares. MBB also lost ground, closing down 0.23% to VND43,350.
In the group of small and medium stocks, many dipped into the red. Real estate firm DLG and property developer FLC suffered from the steepest fall, down 5% to VND3,410 and 2.6% to VND13,300, respectively.
Real estate company SCR and investment company LDG were among a few speculative stocks that expanded. SCR shot up to the ceiling price at VND11,900 and had 21.4 million shares changing hands, while LDG rose 1.7% to VND7,340.
On the Hanoi Stock Exchange, the HNX-Index lost 0.15%, or 0.47 points, to end at 323.32 points, with declining stocks outnumbering gainers by 125 to 86. There were 103.1 million shares worth some VND2.4 trillion changing hands, dropping 22.4% in volume and 25.7% in value compared with the previous session.
Some large-cap stocks that lost ground were lender NVB, securities company VND and property firm CEO, down 1-2%. Petroleum stock PVS was the biggest decliner, down 3.4% to VND28,800.
In contrast, securities firm MBS rose 1.3% to VND31,400 and tour service provider THD increased 1.4% to VND207,100.
Lender SHB reversed course to end higher by 0.7%, reaching VND28,700 with 17.6 million shares changing hands.
TAG: