Int'l air services expected to reopen by end-2021: CAAV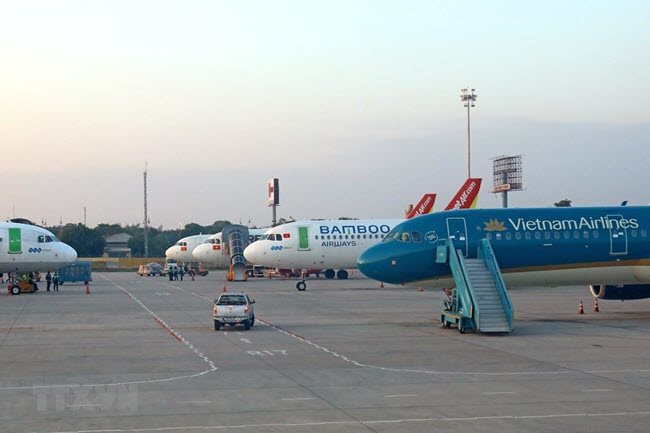 Aircraft operated by local carriers are seen parked at the Noi Bai International Airport in Hanoi. The Civil Aviation Administration of Vietnam forecast that regular flights linking Vietnam and international destinations in Northeast Asia and Europe will resume operations by the end of this year – PHOTO: VNA
HCMC – The Civil Aviation Administration of Vietnam (CAAV) forecast that regular flights linking Vietnam and international destinations in Northeast Asia and Europe will resume operations by the end of this year, after a long period of suspension due to the Covid-19 pandemic.
The national aviation authority's representative on June 28 said that the number of people receiving Covid-19 vaccines in Vietnam and around the world, especially in the source aviation markets of Vietnam such as Northeast Asia and Europe, could rise sharply in the second half of the year. This is expected to create favorable conditions to achieve community immunity and gradually pave the way for the resumption of international air services by the end of the third quarter of the year.
CAAV also forecast that the domestic aviation market is likely to recover by the middle of the third quarter, with over 70 million passengers, VnExpress reported.
In March, CAAV had proposed the phased resumption of international flights to Vietnam. According to the proposal, from September this year, based on the development of the vaccination drives in Vietnam and around the world, CAAV would operate international flights to Vietnam without asking passengers to undergo mandatory quarantine upon their arrival in the country if they have Covid-19 vaccine passports.
The international flights during the period would be operated between Vietnam and other countries and regions accepting the vaccines that Vietnam announces.
At present, over 30 foreign and Vietnamese carriers are licensed by CAAV to operate flights from Northeast Asia, Southeast Asia, the Middle East and Europe to transport commodities, diplomats, experts, skilled employees and overseas students to/from Vietnam.
Besides this, repatriation flights bringing Vietnamese citizens living overseas back home will remain in operation, while regular international flights from Vietnam to foreign countries have yet to reopen.
Local airlines mostly offer domestic air services but have faced a sharp decline in the number of passengers since the end of April due to the resurgence of the coronavirus. During the first half, the volume of air passengers reached 26.8 million arrivals, down 19.4% versus last year's figure, with the number of international passengers plunging 97%.
TAG: