PM chairs Government meeting on law building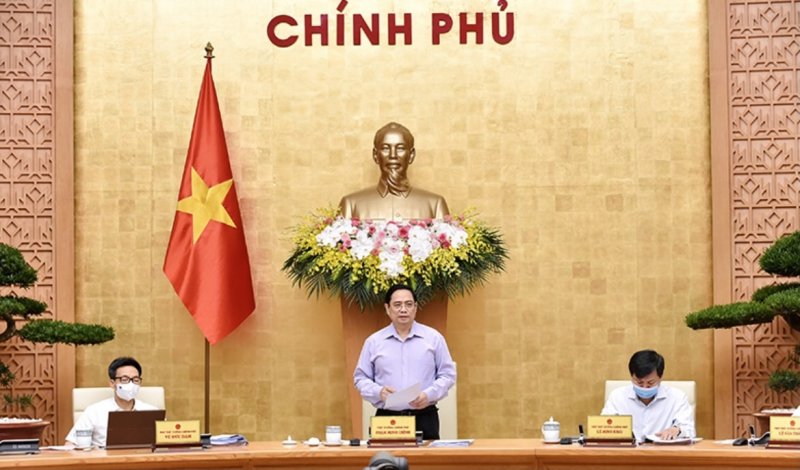 Prime Minister Pham Minh Chinh at the Government meeting (Photo: Nhat Bac)   
NDO/VNA – Prime Minister Pham Minh Chinh chaired a Government thematic meeting on law building, aiming to quickly remove obstacles in forms of mechanisms and policies, so as to better serve the people and enterprises.
At the meeting, the Government discussed and approved several draft laws and decrees, a proposal on building a revised Land Law, and a draft resolution of the Government on policies to support workers and employers facing difficulties due to COVID-19.
The Government assessed the implementation of the law building programme in the first six months of the year and set directions and tasks in the field for the next six months.
Concluding the meeting, PM Chinh stressed that reforming and completing institutions is one of the three strategic breakthroughs identified by the Resolution of the 13th National Party Congress.
While hailing the efforts of ministries and sectors in law building work, the PM noted that a number of shortcomings and problems still remain. He required ministries and agencies to continue reform law building work, and coordinate more closely with relevant ministries, sectors and National Assembly units in the work.
The Government leader stressed that ministers and the heads of ministerial-agencies as well as Chairmen of People's Committees of cities and provinces must directly lead, instruct, monitor, and supervise law building and enforcement work.
Regarding the draft resolution on policies to support workers and employers facing difficulties due to COVID-19, PM Chinh said it must ensure the timely and effective provision of support to the right persons, meeting the needs of the majority of people and demand of reality.
TAG: