Promoting dairy farming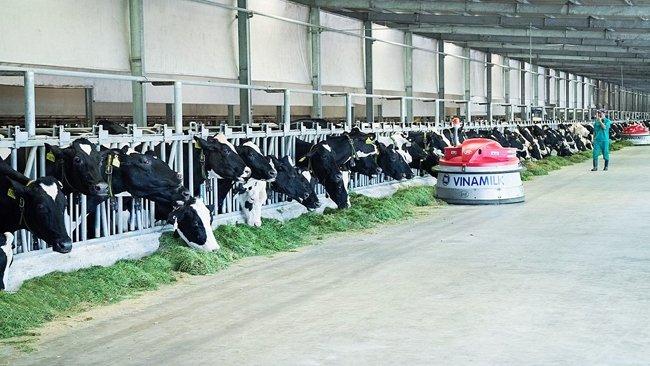 A Vinamilk dairy farm in Long Khanh commune, Ben Cau district, Tay Ninh province. (Photo: DINH CHUNG)   
NDO - Vietnam's dairy industry has been growing and is gradually catching up with countries with advanced breeding technology around the world. The dairy herd now has more than 331,000 cows, an increase of 4.29% as compared to 2020. However, it is necessary to implement more synchronous and effective solutions in the future to fully tap its available potential.
Deputy Director of the Department of Livestock Production (Ministry of Agriculture and Rural Development) Tong Xuan Chinh said that Vietnam's dairy herd is increasing rapidly in both quantity and quality, mainly in the Southeast region. Some localities have posted a high number of dairy cows including: Ho Chi Minh City (87,420), Nghe An (69,062), Son La (26,156), Lam Dong (24,410), Hanoi (15,443), Tay Ninh (13,591), Thanh Hoa (11,765), and others.
The companies that are raising a large number of dairy cows are TH True Milk with 63,000 dairy cows, Vinamilk with 60,000, Nutifood with 7,000, and Dutch Lady with 5,000. The scale of dairy farming from households ranges from seven to ten dairy cows per household and is gradually increasing to 15 - 20 cows.
Vietnam aims to have a total dairy herd of 650,000 to 700,000 by 2025 with 60% of dairy cows being raised on farms. Total milk production is expected to reach between 1.7 to 1.8 million tonnes by 2025 and up to 2.6 million tonnes by 2030.
Several Vietnamese enterprises have been granted export codes to officially ship dairy products to China, opening up opportunities to promote the dairy industry in the world's second largest dairy market (1.4 billion people).
Vinamilk, the only representative from Southeast Asia in the rankings of the top 50 dairy companies in the world, has continuously introduced new products including many breakthrough items such as: Vinamilk Green Farm fresh milk, fresh Vinamilk milk with bird's nest, Hero fruit milk, and others.
In early 2021, Vinamilk first introduced its "Vinamilk Green Farms", located in the provinces of Quang Ngai, Thanh Hoa and Tay Ninh, considered significant progress in its journey to develop sustainable and large-scale dairy farming in the future. Vinamilk has exported its products to 56 countries and territories worldwide.
TH True Milk has also achieved many successes in recent years. The group launched a high-tech dairy farming project on a total area of 441 hectares in Kon Tum province, with total investment of over VND2.5 trillion (US$108.6 million) and a scale of 10,000 dairy cows as well as building a milk processing factory with a capacity of 150 tonnes per day.
In February 2021, the group began a project of concentrated dairy farming on a high-tech industrial scale in Vinh Gia commune, Tri Ton district, An Giang province, with initial investment of over VND2.6 trillion (US$113 million).
Besides these results, the Vietnamese dairy industry still has some shortcomings that need to be addressed. The development planning of dairy cows farming has been implemented slowly while the area of arable land for growing grass for cows is limited.
The processing of raw feeding and agricultural by-products for dairy cows still faces difficulties. Raw milk production only meets 40-50% of the needs of the domestic market.
In particular, the industry has also encountered many challenges due to the disruption of global supply chains and limited transportation due to the COVID-19 pandemic.
According to experts, it is necessary to have a policy to set aside land for the development of dairy cow husbandry in accordance with the provisions of the Law on Animal Husbandry while reducing environmental pollution and ensuring epidemic safety.
Priority should be given to land allocation and lease for concentrated and industrial livestock breeding establishments that meet biosafety conditions. It is also important to quickly bring technological advances into cow breeding while unifying the dairy cow breeding management system at breeding facilities nationwide.
There also needs to be more cooperation between the State, enterprises and breeders to build disease-free and environment-friendly breeding facilities and areas, particularly in key dairy farming areas.
TAG: