Forum seeks solutions to handle non-performing loans amid pandemic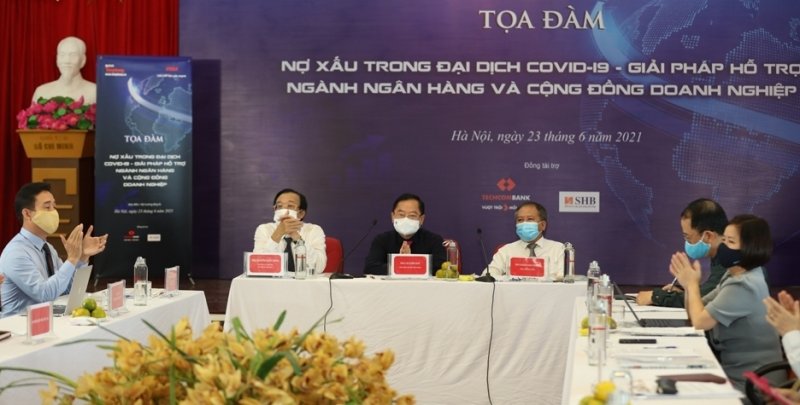 At the forum held on June 23. (Photo: congthuong.vn)   
NDO – The non-performing loans (NPL) rate in the banking system has been curbed to under 3% after the four-year implementation of National Assembly Resolution No.42/2017/QH14, but experts are now worried of an increase in NPLs due to the ongoing COVID-19 pandemic.
This was mooted at a forum entitled "Non-performing loans amidst the COVID-19 pandemic: Solutions to support the banking industry and business community" held by the Tien Phong Newspaper and the Vietnam Banks Association on June 23.
Credit institutions handled nearly VND350 trillion of NPLs between August 15, 2017 and April 30, 2021 following Resolution 42 as promulgated by the National Assembly on June 21, 2017.
On average, banks dealt with about VND8 trillion of NPL per month, about twice as high as the average monthly NPL settlement in the 2012-2017 period (the period before the coming into effect of Resolution 42).
However, this remains a big concern as the fourth outbreak of the COVID-19 pandemic exposes the potential of rising NPLs once again, with many enterprises having their production chains and cash flows disrupted, resulting in no income to pay their debts.
According to Senior Director of Risk Management at Techcombank Nguyen Thu Lan, Resolution 42 is a legal corridor that greatly supports debt settlement, helping banks to resolve the NPL issue since the financial crisis of the 2011-2013 period.
In particular, since Resolution 42 took effect, more than 70% of NPLs have been handled by Techcombank through the application of Resolution 42. However, the impact of the pandemic has made the bank change many policies to adapt to the current situation, Lan noted.
Economic expert Can Van Luc said that Resolution 42 has brought about a lot of positive results in NPL settlement. However, the Resolution focuses on debts formed before August 15, 2017 while NPLs are a constant problem in the banking industry and one which has been increasing during the pandemic.
Meanwhile, Resolution 42 will expire in just over a year, a fact which will raise the pressure on the credit institution system in future. Therefore, it is necessary to legislate for Resolution 42 on the basis of reviewing, perfecting and making the relevant legal provisions more systematic, Luc said.
Lawyer Truong Thanh Duc, Director of ANVI Law Firm, said that it is also necessary to continue to prolong the validity of Resolution 42 and it is best to convert this Resolution into law and apply it until the court system can quickly resolve banks' requests on debt collection.
TAG: