Boosting domestic investment to bolster economic growth: experts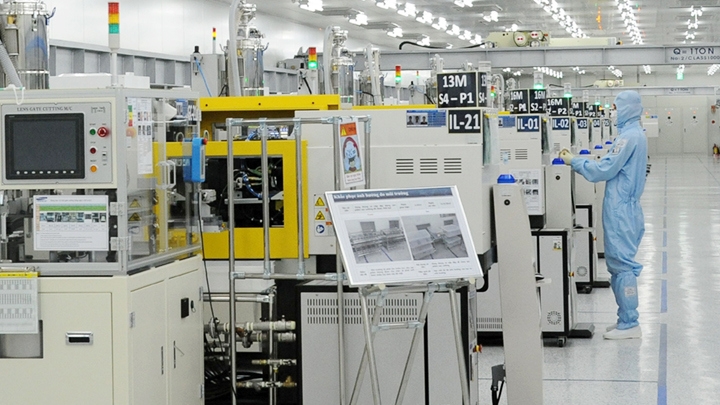 An electronics manufacturing facility of Samsung Vietnam   
NDO - Vietnam's dual goal of virus containment and economic growth has become more difficult to achieve as the virus is now more contagious and has penetrated into industrial parks.
Here are the opinions of some economic experts on how to maintain growth and avoid disruptions to supply chains.
Nguyen Duc Kien, Head of the Prime Minister's advisory group
"In 2021, policies to support Covid-hit enterprises have shifted from short-term to long-term, making it easier for enterprises to devise their recovery plans in the wake of the fourth wave. It is different from last year, when support policies were designed to last for only three months and then prolonged, making it hard for enterprises to plan ahead.
Since April, the Government has issued a decree on extending tax and land lease payment for enterprises, organisations and household businesses affected by Covid-19 while the State Bank of Vietnam has issued a circular on restructuring debt repayment and reducing interest rates for affected customers.
The Government recently issued a decree on accelerating the progress and enhancing the quality of the medium-term public investment plan for the 2021-2025 period. We are proposing some measures so that public investment can boost private investment flows and facilitate Vietnamese enterprises to grow.
I think that as Covid-19 could continue for a prolonged period, businesses, even if they are not located in epidemic areas, should proactively look for new methods to re-organise their production and corporate management to adapt to the new situation.
In the longer run, the government needs to introduce policies to help enterprises enhance their productivity and take part in the sectors that are in need under the plan to restructure the economy and renew the growth model."
Nguyen Dinh Cung, former director of the Central Institute of Economic Management
"With the latest developments in Ho Chi Minh City, this Covid-19 wave's magnitude of impact on socio-economic development has yet to be estimated but it certainly will exert a significant impact on economic growth.
In 2020 the pandemic disrupted global supply chains and this year the pandemic broke out right in domestic industrial parks. As a result, industrial productivity will fall, especially in manufacturing, the driver of growth, which will lead to reduced exports. In this context, the dual goal of epidemic containment and economic growth must be defined more clearly. Should we maintain the economic growth target, revise the target, or strive to achieve the maximum growth rate?
The economy and healthcare are inseparable, only when the pandemic is contained can we achieve decent economic results. The government should assign the ministries and agencies concerned to study and propose economic stimulus packages to be submitted to the government in late June or early July.
I think the priority is still macroeconomic stability, but how can we achieve such a goal as government spending will certainly increase? It is necessary to make calculations and combine various policies to make a specific plan such as when increasing public spending, to what extent is spending deficit accepted or is inflation targeting changed? Besides bolstering public investment, it is necessary to boost public investment through designing an investment boosting package aimed at new economic models, innovation and the digital economy, which have just emerged and are being promoted owing to Covid-19.
A liaison is needed to review what are the obstacles in policy implementation and which policies enterprises need, especially those involving credit, land and tax so that the Government and the National Assembly can make timely adjustments. Support policies during this period must be focused on key economic regions and sectors that are creating new room for growth."
Associate Professor Pham The Anh, National Economics University
"This outbreak is more complicated but the Government's response is suitable with the actual situation, which does not greatly affect economic activities or the people's lives. Manufacturing activity in Bac Giang and Bac Ninh was affected but disruption at the national level did not happen. Most enterprises' responses to the pandemic were also better and more proactive.
What should be noted that this outbreak has exerted a greater impact on social security, particularly the residents, household businesses and small and medium-sized enterprises in areas under quarantine and social distancing rules. Government policies should aim at ensuring social security, supporting enterprises directly hit by the pandemic, and applying long-term measures to improve the business environment and restructure the economy.
Macroeconomic data in the first five months of the year showed that production and business activities in Vietnam were still relatively stable and even had certain advantages over similar economies. That is production was not disrupted and Vietnam was able to capitalise on opportunities from the recovery of major markets such as the US and EU.
The recovery of the global market is an important condition for foreign-invested firms and export companies to make a strong rebound. At this time, it is necessary to create favourable conditions for the above-mentioned enterprises to quickly implement their investment and production plans as they are the sectors with major contributions to economic growth. Support policies are also needed for those losing the market due to Covid-19 so as to strengthen their resilience. Measures can include extending the due date for old loans, cutting land lease fees and supporting them in paying wages such that they will not be forced to lay off workers."
Economist Ngo Tri Long
"The second quarter is not over yet but the economic growth target of 6.5% for 2021 is highly challenging. Measures to boost disbursement and enhance the effectiveness of public investment should be stepped up so that public investment can continue to be an important growth driver. Currently many projects have been brought to a standstill due to rising prices of building materials. If this bottleneck is not resolved, it will affect their progress and even hinder public investment.
Consumer prices in the first five months of 2021 were relatively low but the inflationary pressure remains present with higher prices of building materials, especially steel, food, and fuels. The risk of inflation also comes from an increased money supply when capital use efficiency is low.
In order to support growth during this difficult period, maximum efforts are needed in price regulation so as to keep inflation at a reasonable level. It is necessary to closely watch the price developments of essential goods and input materials for key manufacturing industries so that timely measures can be introduced to deal with price hikes."
TAG: