Over 170 travel firms in HCMC leave market in five months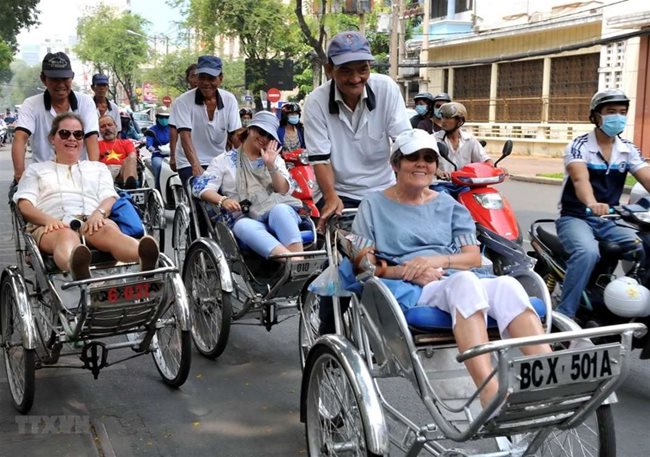 Foreign tourists take a cyclo ride in HCMC before the Covid-19 pandemic. As many as 171 travel companies in the city suspended operations in the first five months of this year as the pandemic turned complicated - PHOTO: VNA.
HCMC – Some 171 travel companies in HCMC suspended operations in the first five months of this year as the Covid-19 pandemic continued to impact the tourism industry severely.
Due to the two Covid-19 waves that broke out this year, with the first one beginning in late January, just a few weeks before the Lunar New Year, and the second one in late April, the country has not been able to reopen its doors to international tourists. Travel restrictions, the closure of borders, and social distancing measures have prevented the tourism industry from recovering.
HCMC, one of the country's most popular attractions, has been among the most affected localities. According to the HCMC Department of Tourism, the revenues of travel firms in the city from January to May 2021 tumbled 70% year on year, forcing them to close down.
Some large travel firms with a strong financial capacity are still operational, but they have had to cut their staff by 50-80% to reduce costs. At present, only 50% of the city's travel companies are operational, with some 31,500 employees.
The lack of tourists has been devastating for the hospitality industry, with hotels' occupancy rates dropping drastically. As a result, many hotels have closed down, while the revenues of three- to five-star hotels still operational have dropped up to 70%.
The director of a travel company in HCMC said although revenues have plunged, the company still has to pay fixed costs such as premise rentals, salaries for employees, and taxes. Therefore, travel companies are now in urgent need of support from the Government.
Data of the HCMC Department of Tourism showed that the city received 7.1 million domestic tourists in the first five months of this year, down 47% compared with 2019 and up 11.4% from 2020.
The city earned VND35.5 trillion (US$1.54 billion) from tourism from January to May 2021, falling 37% compared with the first five months of 2019 but increasing 23.3% against the same period of 2020.
TAG: