Canada-ASEAN Business Council highlights cooperation potential with Vietnam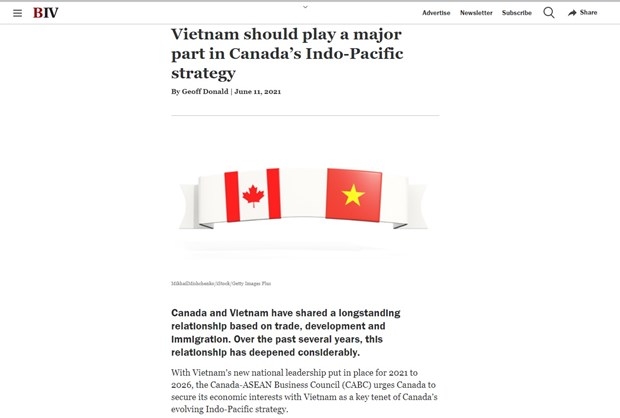 The article posted on Business in Vancouver weekly newspaper    
NDO/VNA – The Canada-ASEAN Business Council (CABC) has urged Canada to secure its economic interests with Vietnam as a key tenet of Canada's evolving Indo-Pacific strategy, according to an article on Business in Vancouver weekly newspaper.
The article titled "Vietnam should play a major part in Canada's Indo-Pacific strategy" was written by Geoff Donald, the CABC's advocacy chair and managing director at Asia Engagement Consulting Group.
According to him, with a rapidly growing population that is expected to reach 120 million by 2050 and a strong GDP forecast of 6.5% growth in 2021, Vietnam is a high-potential market for Canadian companies especially in key industries such as agro-food.
Since 2015, Vietnam has been Canada's largest trading partner in Southeast Asia with two-way trade reaching a record CAD11.2 billion (US$9.2 billion) in 2020. With the Comprehensive and Progressive Agreement for Trans-Pacific Partnership (CPTPP), Canadian and Vietnamese exporters and investors now enjoy increased market access and tariff reduction in a rules-based trading environment.
Two-way trade has increased by 12% over 2019 and by 37% compared with 2018, when the CPTPP began to take effect.
Canada's and Vietnam's commitment to multilateral trade through the CPTPP and critical new opportunities such as a potential Canada-ASEAN free trade agreement positions Vietnam as an essential partner for Canada in the decades ahead, the author affirmed.
As Canada looks to develop an Indo-Pacific strategy, the CABA urges public policymakers and business leaders to prioritise this relationship by increasing support to small and mid-size enterprises looking to take advantage of the CPTPP; expanding Canada-Vietnam business collaborations in high-growth sectors such as agro-food, aerospace, infrastructure, financial services and digital economy; and negotiating a Canada-ASEAN free trade agreement to increase the overall opportunities for Canada in Southeast Asia.
The CABC acts as the voice of the Canadian private sector in ASEAN, and its members, including many of Canada's leading firms such as Manulife, have a significant and longstanding presence in Vietnam, and many more companies are following suit
TAG: