Over 42,000 workers in HCMC lose jobs in Jan-May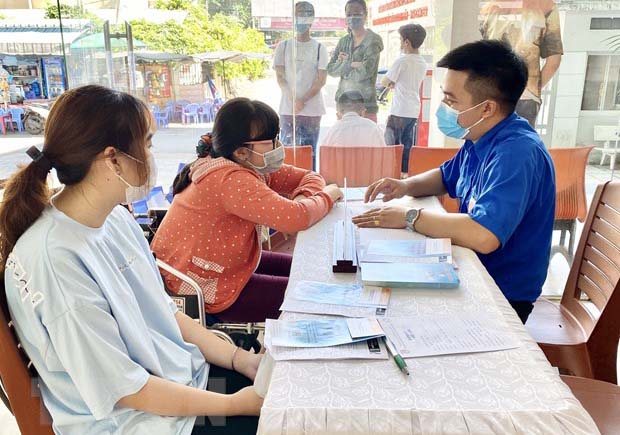 A volunteer offers support for workers at a job fair in HCMC – PHOTO: VNA
HCMC - Over 42,000 workers lost their jobs or were suspended from work. Some 9,300 businesses in HCMC left the market from January to May 2021, said city chairman Nguyen Thanh Phong at a meeting with business leaders affected by Covid-19 on June 10.
According to the HCMC Department of Labor, Invalids, and Social Affairs, 2,274 businesses in the city completed procedures for disbandment in the first five months of the year. Besides, 1,365 businesses reported they were facing difficulties due to the pandemic, and 410 wanted to borrow money to pay their employees' salaries.
Phong said that before the fourth Covid-19 wave, the city's economy had recovered and achieved positive results. The total retail sales of goods and services in the first five months of 2021 rose 8.9% year-on-year to over VND456 trillion (US$19.8 billion). The city's exports reached US$19.63 billion, and budget revenue was estimated at more than VND174 trillion, increasing 15.1% and 22.8% compared with the same period last year, respectively.
"However, during the fourth Covid-19 wave that began on April 27, the city reported some Covid-19 clusters, with the biggest one being the cluster related to the Revival Ekklesia Mission. As a result, the city had to impose social distancing on Go Vap District and Thanh Loc Ward, District 12, from May 31," the city's leader said.
The city has brought the latest outbreak under control. However, complicated developments of the pandemic are still negatively affecting the city's economy and businesses.
"The prosperity of the city and the growth of businesses are connected. Therefore, the city cannot be an outsider when businesses face challenges and difficulties," Phong said.
Addressing the meeting, Nguyen Dang Hien, vice chairman of the HCMC Food Association, said the biggest challenge that businesses in the city face are transportation of goods to other provinces.
"When passing through the Mekong Delta provinces, drivers transporting goods must present their health declarations and Covid-19 test results. However, these papers are valid for just 24 hours in An Giang and 72 hours in Bac Lieu," he explained.
The HCMC Department of Labor, Invalids, and Social Affairs has submitted a proposal to the HCMC People's Committee to release a Covid-19 rescue package worth VND1,075 billion, expected to benefit over 500,000 laborers and thousands of businesses that have been affected by the Covid-19 pandemic. This will be the city's second Covid-19 rescue package after the first one was released last year.
Some businesses suggested that the city cut tolls on the Hanoi Highway by half and suspend the plan to collect fees from businesses for using infrastructure facilities and public services at seaport terminals.
TAG: