Rice bran oil production plant gets off ground in Dong Thap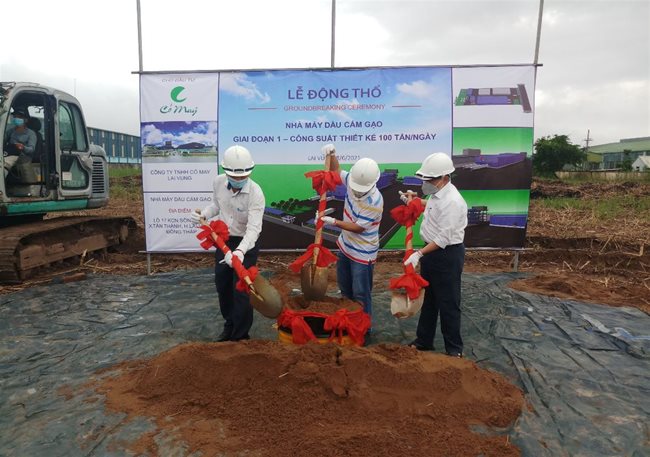 Representatives make a symbolic gesture to break ground on a rice bran oil plant in Dong Thap Province - PHOTO: CO MAY LAI VUNG.
HCMC – Co May Lai Vung Co. has broken ground on a rice bran oil manufacturing plant in the Hau River Industrial Park in Dong Thap Province's Lai Vung District.
The project to make rice bran oil had been planned since 2015; Pham Minh Thien, general director of Co May Lai Vung, said that the facility covers 2.3 hectares, and once in place, the main material will be supplied to firms in the province.
The rice bran oil production holds much potential, with an abundant rice bran supply, said Thien.
The Co May rice bran oil will mainly be distributed in the local market, while the company will also move toward exports to ensure output and boost growth.
"The first tons of rice bran oil will be provided for the domestic market as many nutrients found in rice bran oil are good for human health," said Thien.
Apart from rice bran oil, the company will manufacture other nutrition-rich products from rice in the coming time.
Besides, the company's representative said that the rice bran oil plant, which has a design capacity of 100 tons per year, is expected to create jobs for residents, push the price of rice bran up and contribute to completing the province's rice bran value chain.
After 12 months of construction, the plant will be put into operation.
TAG: