Textile and garment companies struggle in fourth Covid-19 wave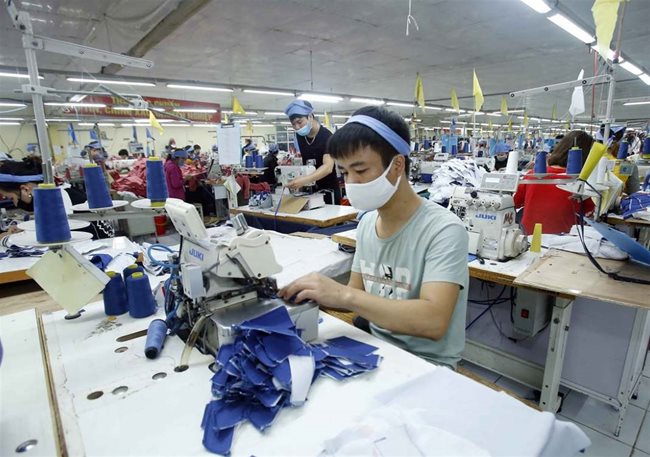 People work at a clothing company. The fourth Covid-19 wave is severely affecting the Vietnamese textile and garment sector - PHOTO: VNA.
HCMC - Most textile and garment companies in the country have received large orders for the second half of the year, but the fourth Covid-19 wave threatens to hinder production.
According to the Ministry of Industry and Trade, textile and garment orders increased significantly after the Covid-19 pandemic was brought under control in the United States, the European Union, and Japan, some of Vietnam's main importers.
The textile and garment sector manufacturing index in May 2021 rose 2.2% from the previous month and 10% compared with the same period last year. From January to May, the index grew 8.1% year on year.
The country exported over US$12 billion of textile and garment products in the first five months of the year, increasing 15% year-on-year.
However, textile and garment companies struggle with disruptions caused by the ongoing fourth Covid-19 wave, which began on April 27.
Vu Duc Giang, chairman of the Vietnam Textile and Apparel Association, said at least 45 textile and garment companies had to suspend their operations over the past two weeks. This is because they face a number of problems, including rising costs, salary payments to maintain the staff, and compensation for customers in case of late shipments.
"If a textile and garment company has to shut down for 14-21 days, its production plan for the entire year may be ruined," he said.
Le Tien Truong, chairman of the Vietnam National Textile and Garment Group (Vinatex), said even if textile and garment companies remain operational, they may not be able to maintain their workforce as workers staying in areas under a lockdown or social distancing are not allowed to travel to the workplace. This can cause a loss of billions of dollars and affect the reputation of the Vietnamese textile and garment sector.
Nguyen Xuan Duong, chairman of the Hung Yen Garment Corporation board, said the Government should accelerate Covid-19 vaccination for workers of industrial parks and export processing zones, especially in current hotspots such as Bac Ninh Bac Giang, HCMC, and Hanoi. These hotspots are also home to many industrial parks and export processing zones.
Enterprises under Vinatex said they are willing to use their own money to vaccinate their workers against Covid-19. The cost is estimated at VND100-200 billion.
"We hope the Covid-19 vaccination will be prioritized for workers in the textile and garment sector so that we can stabilize our production in the coming time," Duong said.
TAG: