Businesses' donations to vaccine fund subject to no CIT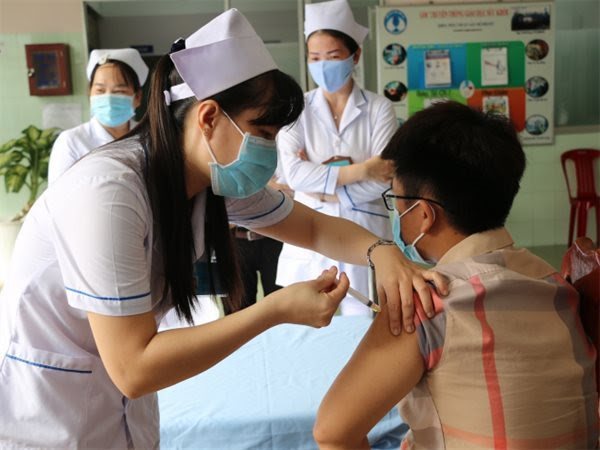 A man receives a Covid-19 vaccine shot - PHOTO: VNA
HCMC - Businesses will not have to pay corporate income tax for the amounts they donate to to the Covid-19 vaccine fund, according to a Ministry of Finance circular.
Circular No. 41 states that the Covid-19 vaccine fund was officially established on May 26 to mobilize donations from individuals and organizations, besides the State budget, to buy Covid-19 vaccines for Vietnamese.
The fund will receive, manage and use donations in cash and vaccines from domestic and foreign individuals and organizations. The fund will also receive money from other legal sources to import and produce Covid-19 vaccines. It is a nonprofit fund but its money will be deposited in commercial banks.
Cash donations can be sent to the fund's bank accounts at the State Treasury's Main Transaction Center, the Joint Stock Commercial Bank for Investment and Development of Vietnam and the Joint Stock Commercial Bank for Foreign Trade of Vietnam.
The Ministry of Health is in charge of receiving, managing and distributing donations for Covid-19 vaccines.
To ensure the proper, transparent and effective use of the fund, the Government makes sure that the fund complies with the Law on Accounting and a Ministry of Finance circular guiding the implementation of the law.
Specifically, it must report its operations to the Government and the National Assembly and publicize the mobilized amounts, the list of donors, the amount spent and the balance on a monthly basis.
The fund will be monitored by the Central Vietnam Fatherland Front Committee and subject to inspections and audits by the State Audit of Vietnam and other government agencies.
A ceremony to introduce the fund will be held this evening, June 5, with the attendance of Prime Minister Pham Minh Chinh.
According to Deputy Minister of Finance Ta Anh Tuan, the fund's balance is now nearly VND104 billion. It will receive large contributions in the coming periods, including VND1 trillion from the Ministry of Health and some VND2 trillion from enterprises.
As of June 4, the fund had received donations from 950 organizations and 124,600 individuals.
The Ministry of Health estimated that Vietnam needs more than VND25 trillion to buy enough Covid-19 vaccines for 70% of its population.
TAG: