FDI into industrial parks, economic zones rise over 10% in Jan-May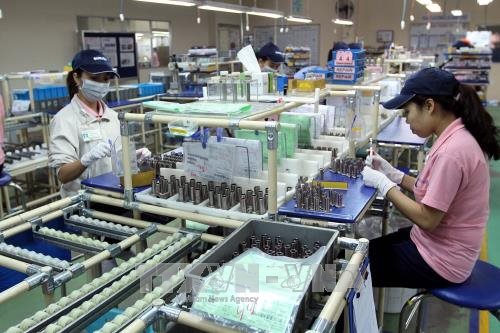 Women work at an industrial zone in HCMC. Foreign investors poured some US$6.02 billion into industrial parks and economic zones nationwide in the first five months of 2021 - PHOTO: VNA
HCMC - Industrial parks (IPs) and economic zones (EZs) nationwide attracted foreign direct investment worth some US$6.02 billion in the first five months of 2021, increasing 10.3% compared with the same period last year.
The figure included both registered capital of 291 new projects and additional capital into existing ones, according to the Ministry of Planning and Investment.
As of late May, IPs and EZs in the county were home to over 10,850 valid foreign-invested projects with total registered capital of some US$228.4 billion, 69.6% of which had been disbursed.
In addition to foreign-invested projects, IPs and EZs also attracted 271 new domestic projects with registered and additional capital totaling VND53.2 trillion (US$2.3 billion) from January to May.
The prime minister approved the investment proposals of 38 projects for the construction of new IPs or the expansion of existing ones in the year's first five months.
Up to now, 394 IPs covering 121,900 hectares have been established in the country. Among them, 286 IPs are currently operational and 108 others are under construction.
Some 42,900 hectares of land at IPs has been rented by businesses, with overall occupation rates reaching about 53%. IPs nationwide have created about 3.78 million direct jobs.
As of late May, 256 of the 286 operational IPs, or 89.5%, had built waste treatment systems meeting environmental protection standards, with a total capacity of over 1.2 million cubic meters each day.
To increase the efficiency of businesses operating at IPs, the Ministry of Planning and Investment encourages them to use advanced technologies, improve their technology levels and proactively integrate into supply chains. They were asked to replace outdated technologies with modern ones to protect the environment.
After some IPs became Covid-19 hotspots during the fourth Covid-19 wave starting late April, the ministry asked the management boards, employers and workers of IPs to strictly comply with pandemic prevention and control measures.
TAG: