Trade value on HoSE for first time exceeds VND30 trillion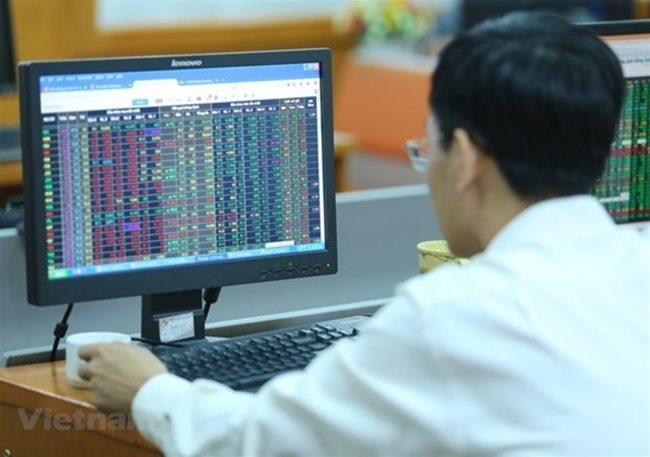 A man watches stock prices on his computer. The benchmark VN-Index rose 0.72% to close at 1,374.05 points on Friday, June 4 – PHOTO: VNA
HCMC - With over 940.3 million shares changing hands, liquidity on the Hochiminh Stock Exchange (HoSE) rose to an all-time high of more than VND31.1 trillion today, June 4.
The benchmark VN-Index rose 0.72%, or 9.77 points, to close at 1,374.05 points, with gaining stocks outnumbering decliners by 224 to 193. Some 52.6 million shares worth nearly VND2 trillion were traded in block deals.
Petroleum stocks stole the limelight as PVD, PVT and PXS shot up to the ceiling prices, while GAS and PLX rose over 3%.
Other major contributors were insurance stock BVH, real estate firm VIC, retailer VRE and consumer goods producer MSN, which increased 4% to VND57,100, 2.1% to VND121,000, 5.6% to VND32,200 and 2.2% to VND107,300, respectively.
Among bank stocks, VPB reversed course to end up 1.6% to VND71,700. MSB soared 5.2% to VND30,400 and TPB rose 2% to VND39,000.
In contrast, ACB, LPB and VCB lost over 1%.
VPB was the most actively traded stock with 76.58 million shares changing hands. Other bank stocks also had good liquidity, with STB and MBB seeing 37.5 million and 32.9 million shares change hands, respectively.
MSB, LPB, TCB and CTG had more than 10 million shares traded each.
In the group of speculative stocks, property developer FLC recorded the fourth straight winning session, closing up 2.3% to VND14,300, with 37.7 million shares changing hands.
On the Hanoi Stock Exchange, the HNX-Index inched down 0.06%, or 0.18 points, to close at 329.76 points, with decliners outnumbering gainers by 104 to 89. There were more than 203 million shares worth some VND4.65 trillion changing hands.
Regarding bank stocks, BAB and NVB dropped over 3%, while SHB achieved the sixth straight winning session, inching up 0.3% to VND32,500.
Petroleum stocks were the best performers, with PVS and PVC shooting up to the ceiling prices. PVB and PVG also grew strongly.
SHB took the lead in terms of liquidity on the northern bourse with 36.47 million shares changing hands, followed by PVS with 24.57 million shares.
TAG: