GE joins hands with BIM Wind to develop huge wind power project in Ninh Thuan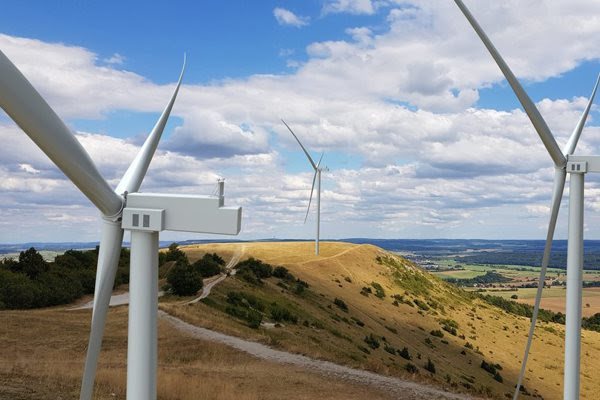 GE Cypress onshore wind turbines are seen at a wind farm. GE Renewable Energy has announced its cooperation with BIM Wind JSC to develop an 88-MW wind farm in Ninh Thuan Province - PHOTO: GE
HCMC - GE Renewable Energy announced that it has secured a contract with BIM Wind JSC, a joint venture between the Philippines' AC Energy and Vietnam's BIM Energy Holding, the renewable energy platform of BIM Group, to supply, install and commission GE Cypress onshore wind turbines for BIM Wind's 88-MW wind farm in Ninh Thuan Province.
This is GE Renewable Energy's largest Cypress platform deal in Southeast Asia, eclipsing three other Cypress orders in Vietnam over the last 12 months. Under the deal, GE will offer a 15-year full service.
The project is expected to be commissioned and operational by the end of the third quarter of 2021. All turbines will be equipped with the two-piece blade design.
"GE's Cypress technology is the right platform for our first wind farm in Vietnam and we are delighted to partner with GE Renewable Energy as we aim to develop at least 1,000 MW of clean energy by 2025, contributing to Vietnam's vision for cleaner sources of energy," says Doan Quoc Huy, chief executive officer of BIM Energy.
The wind farm project will cover an area of some 31 hectares of land in Thuan Nam District and cost some VND3.11 trillion.
The project is expected to supply some 306.9 million kilowatt hours to the national power grid each year, helping ensure stable power supply nationwide, according to the Ninh Thuan Department of Planning and Investment.
In related news, the Gia Lai government has approved a plan to develop a solar power plant with total investment of over VND9.5 trillion.
The project, whose investor is IaLy Gia Lai Solar Power Company, is set to cover 533 hectares of water surface in IaLy Commune in Chu Pah District, the local media reported.
The projected solar power plant is designed to have a capacity of 500 MW and will get off the ground in the second quarter of 2022. The project will be completed in the fourth quarter of 2023 and be operational for 50 years.
TAG: