Liquidity on HoSE jumps to nearly VND30 trillion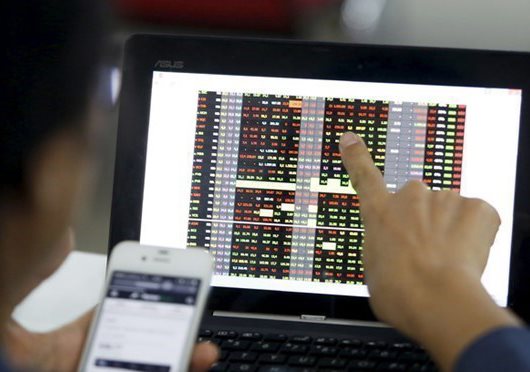 A man watches stock prices on his laptop. The benchmark VN-Index rose 1.75% to close at 1,364.28 points on Thursday – PHOTO: VNA
HCMC - The strong cash flow helped liquidity on the Hochiminh Stock Exchange (HoSE) reached a new high today, June 3, with nearly 899 million shares worth more than VND29.3 trillion changing hands, increasing 12% in both volume and value compared with the previous session.
The benchmark VN-Index rose 1.75%, or 23.5 points, to close at 1,364.28 points, with gaining stocks far outnumbering decliners by 339 to 75. Some 42 million shares worth nearly VND1.57 trillion were traded in block deals.
In the VN30 basket, consumer goods producer MSN and tech firm FPT were the only two stocks that lost ground, both inching down 0.7%.
Lender MBB and electricity firm POW shot up to the ceiling prices at VND41,150 and VND12,700, respectively, and had over 29 million shares traded each.
Other major contributors were sugar producer SBT and brokerage firm SSI, which soared 6.5% to VND21,200 and 6.3% to VND48,900, respectively.
Among bank stocks, LPB and OCB shot up to the ceiling prices at VND33,850 and VND30,800, respectively. The biggest gainers also included HDB and MSB, which soared 5.3% to VND35,800 and 4.3% to VND28,900, respectively.
TPB, BID, CTG, TCB, ACB and SSB rose 2.8-3.8%. Other bank stocks such as VPB and VCB increased less than 1%.
A number of securities stocks such as APG, AGR, CTS, VDS and FTS shot up to the ceiling prices. Some others surged over 5%, including VIX, HCM and VCI.
In the group of speculative stocks, many stocks such as FLC, HQC, IJC, AAA, DLG, ASM, LCG, BCG, MHC, TNI, SJF, VOS and PSH shot up to the ceiling prices. Only some stocks in the group lost ground, including FIT, TSC, HPX, HVN, APH and DCL.
On the Hanoi Stock Exchange, the HNX-Index rose 2.45%, or 7.9 points, to close at 329.95 points, with gainers outnumbering decliners by 89 to 48. There were some 222.9 million shares worth more than VND5.3 trillion changing hands.
Many stocks, both large and small, such as VND, TVC, ACM, APS, TVB, KVC, EVS, PSI and KSQ shot up to the ceiling prices.
The major gainers included SHB, SHS, MBS, ART, KLF, VCS and BAB, which increased more than 3%.
On the other hand, the significant decliners were PVS, IDC and TNG, which lost 1.5%, 1% and 2.2%, respectively.
Lender SHB was the most actively traded stock on the northern bourse with 51.6 million shares changing hands, followed by petroleum stock PVS with 22 million shares and securities enterprise ART with 17 million shares.
TAG: