Nearly 400 enterprises leave market everyday in Jan-May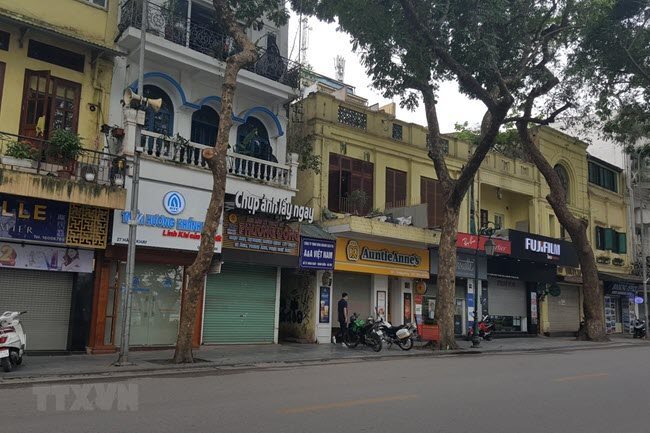 Stores on a Hanoi street remain closed to help contain the spread of the new coronavirus - PHOTO: VNA
HCMC – Some 59,800 businesses left the market from January to May 2021, equivalent to some 400 businesses everyday, according to the General Statistics Office of Vietnam.
Among them, 31,800 registered to temporarily suspend their operations, rising 22.3% year-on-year. Some 20,000 businesses halted their operations pending dissolution, rising 20.7% year-on-year and 8,000 completed procedures for disbandment, increasing 32.3% year-on-year.
The number of businesses withdrawing from the market in the first five months of 2021 rose 23% compared to the same period last year. On average, some 12,000 businesses were shut down every month.
On the other hand, 78,300 businesses were established or resumed operations from January to May, equivalent to 15,700 businesses every month.
Among them, 55,800 businesses with registered capital totaling VND778.3 trillion were established in the first five months of the year, rising 15.4% and 39.5% compared with the same period last year, respectively. The average registered capital of newly established enterprises was VND14 billion.
There were 22,600 businesses that resumed operations between January and May, increasing 4% year-on-year.
The Research Department for Private Economic Development said most enterprises are facing an unbalanced cash flow, which began when the Covid-19 pandemic broke out and has become more serious.
Bac Giang Province, which is the country's current biggest Covid-19 hotspot, has shut down four industrial zones since May 18 to curb the spread of Covid-19, forcing many enterprises to suspend their operations. Up to now, the management boards of these industrial zones have only allowed nine enterprises to resume operations.
TAG: