Travel Department disapproves of U.S. tour package inclusive of Covid-19 vaccinations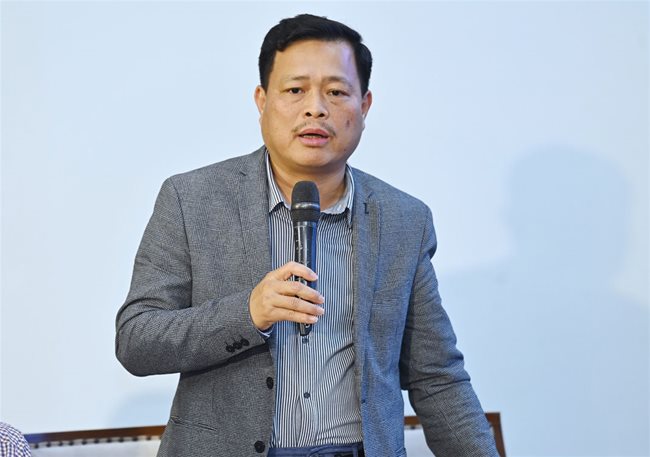 Nguyen Quy Phuong, director of the Travel Department under the Vietnam National Administration of Tourism - PHOTO: THE MINISTRY OF CULTURE, SPORTS AND TOURISM
HCMC – The Saigon Times spoke to Nguyen Quy Phuong, director of the Travel Department under the Vietnam National Administration of Tourism, about his thoughts on a U.S. tour for Vietnamese citizens inclusive of Covid-19 vaccinations. Phuong lauded tourism companies that were actively seeking new products during these times, but said he did not support the tour.
The Saigon Times: What is your opinion on the new tour package seeking to take Vietnamese to the United States to get vaccinated against Covid-19?
Nguyen Quy Phuong: We understand that businesses are struggling because of the delay in tourism caused by the pandemic. The fact that they are actively seeking out new products during this time is admirable.
However, due to the complicated development of the pandemic, which has led to a series of changes with regard to travel and entry and exit conditions, businesses should consider the current situation along with pandemic prevention and control regulations to come up with appropriate products.
We do not support this product in the current context because it is not suitable and may cause unwanted risks to customers and the business.
Tourism companies in Thailand and some other countries have already organzied similar tours. What is your opinion on this?
As I said earlier, businesses should consider the pandemic situation, current preventional protocols and the Government's pandemic control policies when building a product.
Pandemic prevention in Vietnam is different from that in Thailand and hence requires different responses and policies. As of now, the entire country is focused on preventing the spread of Covid-19 as its development becomes more complicated and, as such, entry to Vietnam is being strictly controled. This poses great risks to tourists upon their return.
Not to mention, due to the pandemic progressing complicatedly, surprising decisions from the government such as closing off destinations, a frequent occurrence during the pandemic, can cause uncertainties among tour operators and tourists.
For customers who will return once they're vaccinated, the risk is that they might not find flights right away. What about those who can stay there longer?
It is true that a clear distinction should be made between these two segments of customers. For U.S. tours inclusive of Covid-19 vaccinations as advertised by businesses, the services offered are in the form of free & easy and a one-way ticket from Vietnam to the United States
For those who will return once they're vaccinated against Covid-19, there is a risk of not being able to find a flight back. In that case, problems such as additional costs, visa expiration, etc. might arise.
For those who can stay there longer, they should not face any problems.
However, businesses should note that at the beginning of last year, the Vietnam National Administration of Tourism issued Official Letter No. 76/TCDL-LH signed by Director Nguyen Trung Khanh, which clearly warned against organizing tours to pandemic-hit countries across the world. In case the company takes customers to cities that are on the list of pandemic-hit areas, the business will be violating regulations.
If the company has already received booking money but is unable to organize tours due to sudden outbreaks or lockdowns, problems such as postponements, delays, refund policies, etc. need to be dealth with.
There are many reasons for us to conclude that organizing such a tour is very risky at the moment.
Are you banning tours to the U.S. to get vaccinations?
We're not saying that we're banning this type of tour at the moment, but merely advising businesses and tourists. We have asked HCMC's Department of Tourism to work with the business on the product and may give a more detailed opinion next week.
Customers should be cautious before booking tours at this time. They should request businesses to provide clear information about all the services and do research on entry and exit regulations to avoid possible risks. Businesses, too, should be transparent about agreements with customers to prevent possible disputes.
TAG: