Transport Ministry assigned to order VNR to maintain railway infrastructure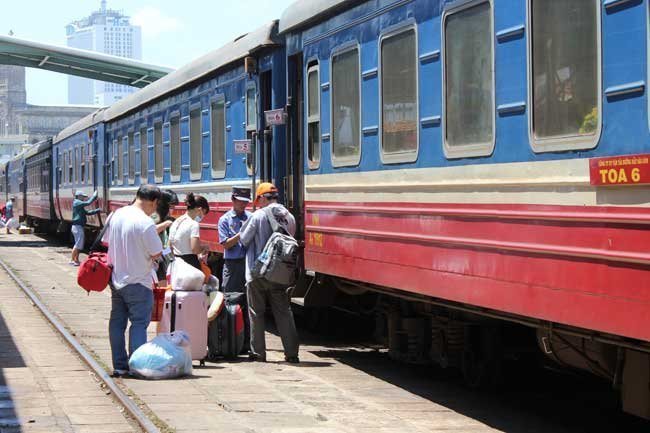 Passengers board a train. The prime minister has assigned the Ministry of Transport to take responsibility for the maintenance of railway infrastructure - PHOTO: LE ANH
HANOI – The prime minister has assigned the Ministry of Transport to place orders with the Vietnam Railway Corporation (VNR) to manage and maintain the railway infrastructure facilities this year instead of assigning the job directly to VNR.
The Government leader on May 19 made the decision after consulting with relevant agencies. Accordingly, the ministry must sign a contract with VNR before May 24.
The Ministry of Transport has also asked the Vietnam Railway Authority to do the job and handed over the railway infrastructure maintenance fund for this year to the authority.
The prime minister's decision put to an end the argument between the Ministry of Transport and VNR on the handling of some VND2.8 trillion for railway maintenance.
In previous years, the Ministry of Transport handed over the railway infrastructure maintenance fund to VNR as it is under the ministry's management.
However, since 2019, VNR has been under the Commission for the Management of State Capital at Enterprises, so the ministry did not hand over the fund to VNR as it went against the Law on State Budget.
Therefore, the ministry proposed handing over the fund to the Vietnam Railway Authority and the authority would have to sign maintenance contracts with 20 subsidiaries of VNR.
VNR Chairman Vu Anh Minh said the ministry's proposal was unreasonable as the unity of railway infrastructure management and maintenance and the safety of trains would be at risk.
In addition, if the fund was assigned to the authority, its allocation might be slower, leading to the slow payment of salaries for hundreds of laborers. Therefore, VNR proposed directly receiving the fund.
TAG: