VN30 stocks send VN-Index rising to new record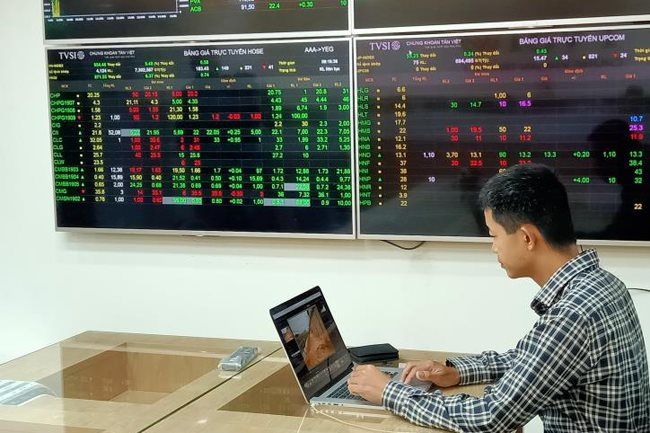 A man sits in front of an electric board displaying stock prices. The VN-Index hits a new record today, May 20 - PHOTO: VNA
HCMC – Many stocks in the VN30 basket surged at the end of the session today, May 20, pushing the VN-Index of the Hochiminh Stock Exchange to an all-time high of 1,278.22 points.
At the close, the main index soared by 15.73 points, or 1.25%. The bourse saw over 745.2 million shares worth over VND22.7 trillion changing hands, up 7% in volume and 5% in value over the previous session. More than 39 million shares worth some VND1.7 trillion were traded in block deals.
In the VN30 basket, 23 stocks gained, with brokerage firm SSI rocketing 6.9% at VND38,500, and jewelry company PNJ and refrigeration electrical engineering firm REE adding 6.2% each at VND99,300 and VND58,400, respectively.
In addition, mobile phone retailer MWG rose 5.9% at VND150,000 and tech giant FPT, consumer goods company MSN and lender VCB jumped 5.2% each.
Bank stock STB registered the highest liquidity in the VN30 basket and the southern bourse as a whole with over 57.2 million shares transacted.
Besides SSI, other securities stocks gained positive growth. Of which, CTS increased 6.7% to hit its ceiling price of VND15,900.
On the other hand, real estate developer FLC fell 5.5% at VND12,100, mining firm AMD lost 5.8% at VND6,220, and construction firm ROS even reached its floor price before tumbling 6.3% to close the day at VND6,810.
On the northern bourse, the HNX-Index slid 0.14 points, or 0.05%, at 295.1 points.
There were more than 124.9 million shares worth nearly VND2.6 trillion matched.
Securities stocks reported the sharpest increase. For example, MBS picked up 6.5% at VND24,500 and BVS expanded 6.1% at VND22,700, while APS and BSI hit their ceiling prices.
SHS was the most actively traded stock on the bourse with over 14.6 million shares changing hands.
However, property firm CEO, petroleum stock PVS and some others put pressure on the market.
TAG: