Shrimp exports to Australia on the rise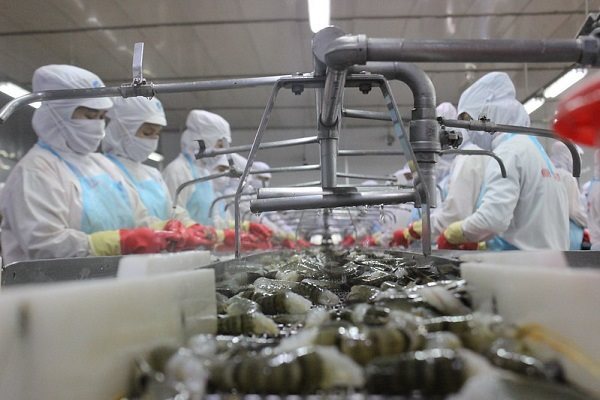 Workers process shrimp for export to Australia at Minh Phu Hau Giang Seafood JSC - PHOTO: NAM BINH
HCMC - The Vietnam Association of Seafood Exporters and Producers (VASEP) stated that shrimp exports in the first quarter exhibited impressive growth in some markets, one of which was Australia.
According to VASEP, by the first half of April 2021, the total value of shrimp exports to the Australian market reached US$47.4 million, 60% higher than the same quarter last year.
As a potential shrimp export market in the Comprehensive and Progressive Agreement for Trans-Pacific Partnership market, the export value of shrimp (especially whiteleg shrimp) in the past two years in Australia has been positive.
During the first quarter, there were over 20 businesses exporting shrimp to Australia. Shrimp products exported to Australia in the first quarter of this year were quite diverse, mainly consisting of frozen whiteleg and black tiger shrimp, fresh whiteleg shrimp, peeled and deveined; dried shrimp products have also recently been exported to Australia.
Vietnam, Thailand, China, Malaysia and Brunei are the top five shrimp suppliers to the Australian market, of which Vietnam is the largest, accounting for 65% of the total value of shrimp imports.
Last year, due to the impact of Covid-19, imports in Australia struggled as nationwide shrimp consumption plummeted as a result of social distancing.
However, as of the end of 2020 and the beginning of this year, many importers, suppliers and retail distribution channels have adapted to the pandemic and started doing business again.
Many sales methods switched to door-to-door delivery with priority for card payments as well as pre-ordering wholesale products purchased from a system of stores, restaurant chains and local seafood suppliers.
This led to a high growth rate from seafood consumption during the first few months of 2021, placing Australia fifth among the single markets importing Vietnamese seafood products in the first two months of this year.
Australia is currently only behind the United States, Japan, China and Korea in the top 10 markets for Vietnamese seafood. In particular, shrimp accounts for 66% of the total seafood export turnover to this market.
TAG: