Proposal to remove airfare caps sparks controversy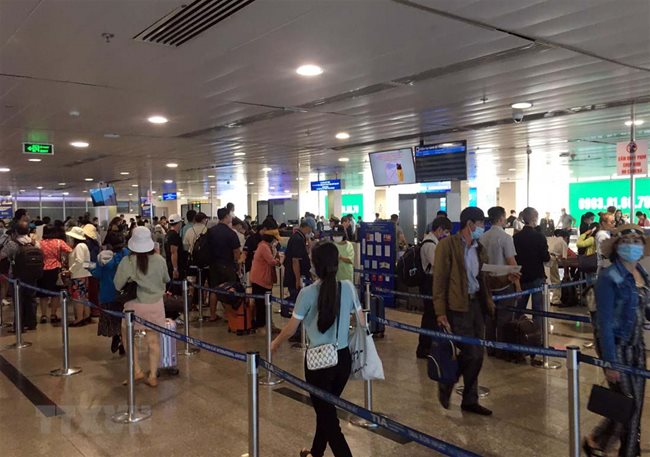 Passengers queue up at the check-in counters of the HCMC-based Tan Son Nhat International Airport. The Civil Aviation Authority of Vietnam has proposed abolishing airfare caps for certain routes – PHOTO: VNA
HCMC - The Civil Aviation Authority of Vietnam's (CAAV) proposal to remove the caps on airfares for routes with three or more airlines operating has sparked controversy.
At present, airfare caps are VND1.6 million per ticket for routes under 500 kilometers and VND3.75 million for routes of 1,280 kilometers or above.
CAAV said the airfare caps limit airlines from improving flight service quality, affecting their competency, an important factor in sustainable development.
According to Dang Anh Tuan, marketing director of national flag carrier Vietnam Airlines, besides Indonesia and Thailand, Vietnam is among a few countries that have set domestic airfare caps. The current airfare caps have been in force since 2006.
"For any types of service, ceiling prices are unnecessary if there is more than one service provider. Vietnam currently has six airlines, so airfare caps are unessential and unsuitable," he said.
Vu Duc Bien, general director of Vietravel Airlines, suggested CAAV work closely with the Ministry of Transport on the proposal to remove airfare caps. Recommendations from airlines, consumers and managing authorities must be carefully taken into consideration to ensure all parties benefit.
Dr. Dinh The Hien said aviation is a conditional industry. Therefore, airfare caps are essential for the Government to regulate airfares and ensure benefits for consumers.
Assoc. Prof., Dr. Ngo Tri Long, former chairman of the Market Price Research Institute under the Ministry of Finance, said Vietnam has six local airlines, but Vietnam Airlines, Vietjet Air and Bamboo Airways account for 80-90% of the market. For the Hanoi-HCMC route, which is the country's busiest air route, Vietnam Airlines and Vietjet account for more than half of the market. Therefore, CAAV's proposal to remove the caps on airfares for routes with three or more airlines operating is unsuitable under the current situation.
"I think CAAV's proposal violates the Price Management Law and Competition Law. Airfare caps will not prevent airlines from upgrading their services. For an industry that is dominated by a few enterprises such as aviation, the Government's most effective management method is the price management tool, alongside accounting and auditing tools," Long said.
Many customers worry that airfares could become costly during peak travel seasons such as the summer and holidays if airfare caps are lifted. They were also concerned about collusion among airlines to raise airfares.
Vietnam Airlines earlier proposed abolishing the caps on airfares for domestic flights in late 2019. However, the proposal was rejected by CAAV at that time.
Regarding the decision of Vietnam Airlines, Pacific Airlines, Vasco and Bamboo Airways to increase their management fees by up to VND100,000 per passenger, some air ticket agents said the increase is not suitable under the current situation. In the context of the Covid-19 pandemic, the increase will affect air travel demand and customers may turn to cheaper means of transport.
TAG: