Fourth Covid-19 wave washes away hopes of domestic travel rebound in Vietnam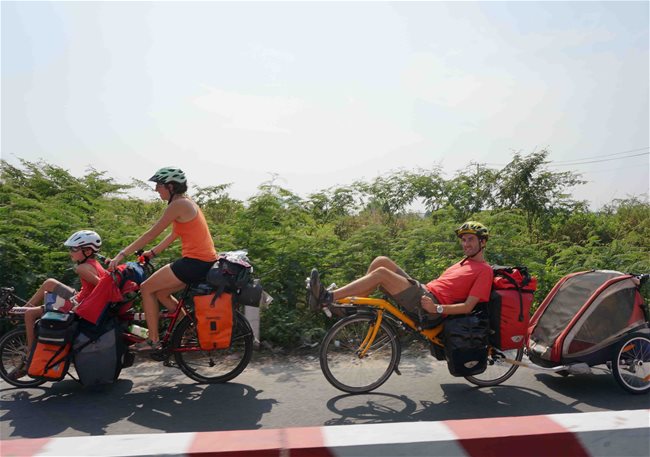 Foreign tourists cycle in Phan Thiet City before the Covid-19 outbreak. The fourth Covid-19 wave has disrupted the rebound of domestic travel demand – PHOTO: DAO LOAN
HCMC – The local tourism industry was looking forward to the approaching summer season and the accompanying demand for travel from domestic tourists but the fourth Covid-19 wave has washed away their hopes, according to Savills Hotels APAC.
This year, the tourism industry was optimistic of hitting its target of 80 million domestic tourist arrivals, nearly the same as in 2019, before the pandemic. Compared with data from 2020, this translates to a year-on-year growth of over 42%.
The Reunification Day and International Labor Day holidays traditionally mark the start of the peak season in Vietnam. This year was no exception.
Since mid-April, hotels and resorts in Danang, Phu Quoc, Phan Thiet and Ho Tram were seeing a rush in long-weekend holiday bookings. Hotel occupancy of over 75% was expected, with some resorts anticipating an average occupancy of 80% and others, 100%.
The Civil Aviation Authority of Vietnam reported a surge in demand for the four-day holiday of almost 1.5 million bookings. Demand was up by 30% compared to the 2019 level.
On April 29, 2021, the Tan Son Nhat International Airport in HCMC set a record for the holiday weekend by processing over 108,000 passengers, a record made even more significant as borders remained closed, proving the growing demand for domestic travel in Vietnam.
However, the fourth wave of Covid-19 that started from late April immediately affected the hospitality industry, with any destinations requiring air travel, such as Danang and Nha Trang, being the most affected.
The Tourism Authority of Danang recorded 74,000 visitors during the national holidays, down 42% against pre-holiday bookings.
However, drive-by destinations such as Ho Tram, Vung Tau, and Dalat, perceived safer as they require private transportation, saw a rush of last-minute bookings.
"After a few months of demand steadily increasing for accommodation and conferences, the latest outbreak has hit the hospitality industry hard. Some projects have been forced into partial shutdown. City hotels and beach resorts have endured yet another wave of last-minute cancellations," said Mauro Gasparotti, director of Savills Hotels APAC.
Hotels in HCMC and Hanoi have seen several MICE (meetings, incentives, conferences and exhibitions) postponements or cancellations, under social distancing concerns and Covid-19 guidelines of avoiding crowded places. The emerging situation has cut off what would have been very welcome additional MICE income to compensate for the shortage in room revenues.
Resorts have also been hit hard with some properties seeing cancellations of 50% and others even as high as 80%, mainly from groups and corporate clientele.
"To limit the risk of contact, some resorts have decided to temporarily close down until the situation stabilizes. Amid all this uncertainty, several hotels announced that they would only accept guests who possess a negative Covid-19 test result, to avoid lockdowns or quarantining of staff," Gasparotti said.
The impact of surging community transmissions on tourism activities varies from location to location. Though the most affected destinations are those where outbreaks first started, the impact has been felt everywhere due to people postponing unnecessary travel, seeking to avoid airports and facing other health concerns.
Drive-by destinations such as Ho Tram or Dalat have also been impacted, but to a lesser extent.
"The long holiday was a fantastic example of how the market was recovering; most resorts were fully booked, with many commanding higher prices than during the same period in 2019. The latest outbreak is really a deeply unwelcome scenario for the industry, especially so close to the approaching summer season," Gasparotti added.
TAG: