VN-Index ends lower as largecaps tumble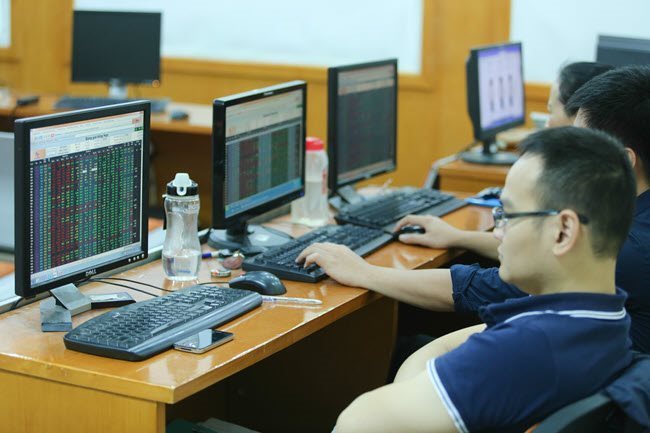 Employees at a securities broker monitor stock prices on computer screens. The weak performance of many large-cap stocks and strong selling pressure dragged the VN-Index of the Hochiminh Stock Exchange down today – PHOTO: VNA
HCMC – The weak performance of many large-cap stocks, coupled with strong selling pressure, dragged the VN-Index of the Hochiminh Stock Exchange down to 1,252.68 points today, May 18.
Closing the day, the main index lost 6.02 points, or 0.48%, from the day earlier, as decliners outnumbered winners by 274 to 143.
There were some 692.5 million shares worth VND21 trillion changing hands, down 9% in volume and 8% in value against the previous session. Block deals contributed VND1.2 trillion to the total value.
Among the top 30 stocks in the southern bourse, 18 stocks traded in negative territory, while fuel firm PLX finished the day at the reference price.
Financial service provider TCH posted the deepest loss of 3.1%, while lender VCB, retailer VRE, insurer BVH and property developer VIC dropped by 1.1%-2.4% at the close.
On the positive side, lender STB soared by 5.2% and was the most actively traded stock on the southern market with a matching volume of over 44.7 million shares.
Many speculative stocks such as property developers FLC and DLG, oil drilling firm PVD and logistics enterprise GMD were among good performers.
The HNX-Index of the Hanoi Stock Exchange fell by 2.15 points, or 0.73%, from the session earlier, at 294.64 due to poor cash flow and the decline of large-cap stocks.
Lender SHB slid 1.3%, but took the lead on the northern bourse by liquidity with 24.2 million shares changing hands.
Other stocks such as bank NVB, food producer PAN, securities company TVB and asset management corporation TVC tumbled by 2%-5.1%.
TAG: