Steel exports surge 50% despite steel price upsurge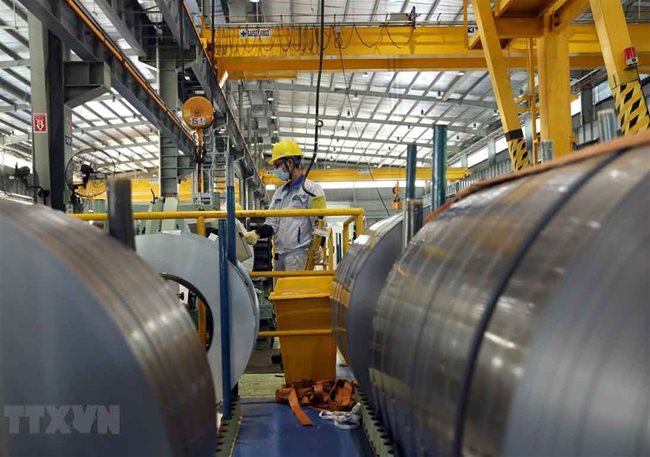 A man works at a steel production plant. Vietnam's exports of steel and iron increased 50.4% in the first four months of 2021 – PHOTO: VNA
HCMC – Vietnam's exports of steel and iron increased over 50% in the first four months of 2021 despite a surge in domestic steel prices, according to the General Department of Vietnam Customs.
Data of the department showed that the country exported 3.9 million tons of steel and iron worth US$2.79 billion from January to April, surging 50.4% in volume and 96.3% in value compared with the same period last year.
In the second half of April, the country exported nearly 593,700 tons of steel and iron worth US$471 million, increasing 58% in value compared with the month's first half.
Domestic steel prices have soared 45% since the beginning of this year, making life difficult for enterprises and contractors. Many contractors have had to walk away from projects.
The Vietnam Industry Agency attributed the steel price upsurge to the high prices of imported materials for steel production. The longer shipping time triggered by Covid-19 has contributed to the hike.
Besides businesses, many households said the steel price upsurge has raised the construction cost of their houses by some 15%.
The Ministry of Industry and Trade has suggested the Government and related departments take measures to restrict the exports of steel to stabilize domestic steel prices.
In addition, the Vietnam Steel Association has asked its members to raise the steel production capacity. In the first four months of the year, the raw steel volume picked up 17.4%, while the rolled steel volume surged nearly 62%.
The association had earlier forecast that domestic steel prices would decline at the end of the second quarter of 2021. However, based on the current situation, it said steel prices would continue to rise until the end of the third quarter.
TAG: