HCMC to spend VND8 trillion more on anti-flooding projects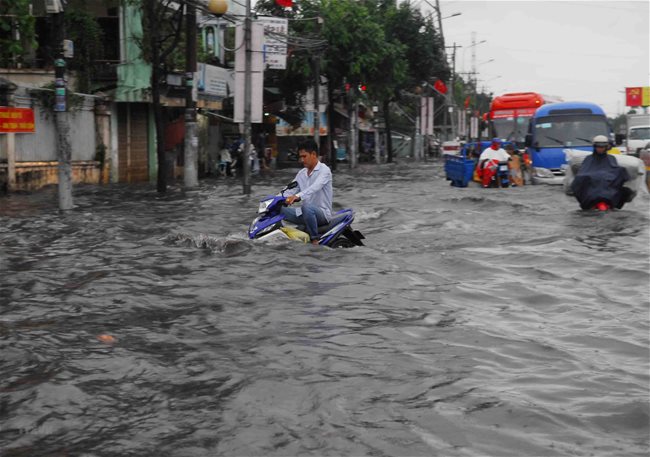 A motorcyclist wades through a heavily flooded street in HCMC after heavy rain. HCMC has plans to kick off 12 anti-flooding projects worth over VND8 trillion this year – PHOTO: VNA
HCMC – The HCMC Department of Construction has sent a plan to the municipal government proposing that the city kick off 12 anti-flooding and environmental cleanup projects worth over VND8 trillion (US$348 million) in total this year.
The 11 anti-flooding projects and one environmental cleanup project are scheduled for completion before 2025, according to deputy director of the HCMC Department of Construction Dang Phu Thanh.
Thu Duc City has the highest number of projects, with three projects on Road No. 8 and Nguyen Duy Trinh and La Xuan Oai streets costing a total of over VND455 billion.
HCMC has carried out a dozen anti-flooding projects in recent years, but many of them have lagged behind schedule.
The city's biggest anti-flooding project, which costs some VND10 trillion, has been 96% complete. However, it has been suspended since mid-November last year.
The build-transfer contract for the project between Trung Nam Group's subsidiary Trung Nam BT 1547 Co., Ltd, the investor of the project, and the HCMC government, which was signed on November 18, 2019, expired on June 26, 2020, but the two sides have yet to sign an appendix to extend the deadline of the project. Therefore, the project has no legal foundation to continue.
The tardiness in signing the appendix was attributed to the disagreement between the two sides over the payment method.
Fast urbanization, an aging drainage system, the overexploitation of underground water and a large amount of garbage discharged into rivers and canals have made the city unable to address flooding-related problems.
Professor Le Huy Ba, former chairman of the Science, Technology and Environmental Management Institute, said most anti-flooding projects in the city are outdated or moving at a snail's pace, while large-scale projects have not been put into operation. He suggested that the city speed up anti-flooding projects and collaborate with neighboring provinces to ensure the efficiency and connectivity of these projects.
"The city should dredge the canals and build drainage lakes in residential areas, which not only require less investment but are also able to regulate temperatures," said Le Chanh, lecturer at HCMC University of Agriculture and Forestry.
Data of the HCMC Department of Construction showed that the number of flood-prone areas in the city was reduced from 126 in 2008 to 58 in 2011 and 40 in 2015.
As of late 2020, the city had tackled 22 flooded areas on major roads. Roads which once saw heavy flooding in the rainy season such as February 3, Le Hong Phong, Ky Dong, Tran Quang Khai, Tran Nhat Duat, No Trang Long and Xo Viet Nghe Tinh no longer do.
According to the HCMC Technical Infrastructure Management Center, the city poured nearly VND26 trillion into anti-flooding projects from 2016 to 2020.
TAG: