CAAV asks airlines to refund airport service fee for canceled tickets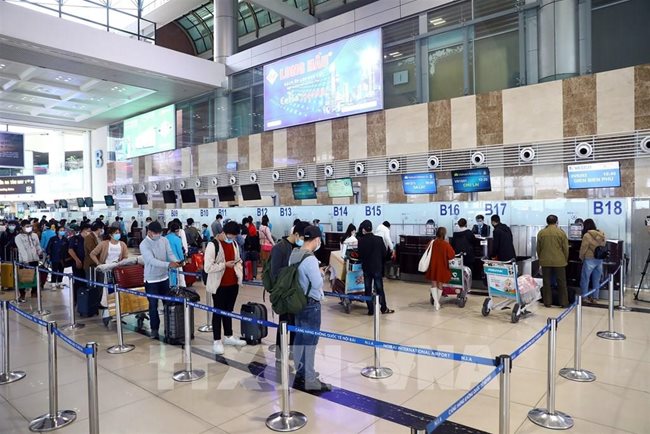 Passengers queue up in front of check-in counters at the HCMC-based Tan Son Nhat International Airport. CAAV has asked airlines to refund the airport service fee and screening fee for canceled tickets – PHOTO: VNA
HCMC - The Civil Aviation Authority of Vietnam (CAAV) has sent a document to local airlines saying that they must refund the airport service fee and screening fee to passengers who cancel their air tickets.
Due to the complicated Covid-19 situation, a large number of passengers had to cancel their air tickets. However, some local airlines including Vietnam Airlines, Vietjet, Bamboo Airways and Pacific Airlines have refused to refund the passenger service charge (airport service fee) and passenger security service charge (screening fee) to those who had canceled their flights.
At present, the domestic airfares comprise the ticket fee, value added tax, airport service fee, screening fee, system management fee and fuel surcharge.
According to Article 8 of Circular No. 53 dated December 31, 2019, of the Ministry of Transport, the airport service fee and screening fee will be submitted to the management units of airports. Value added tax is fixed and will be sent to the State budget, while system management fees vary depending on the airlines.
"When a passenger cancels a ticket, the airport service fee and screening fee collected by the airline from the passenger are not part of the amount payable by the carrier to the passenger service, passenger security and baggage service providers. Therefore, these fees must be returned to passengers," CAAV said.
The authority asked the airports to publicly and transparently inform passengers about their rights and the procedures of receiving refunds for airport service fees and screening fees after canceling air tickets.
At present, the screening fee is VND20,000 per passenger, while the airport service fee ranges between VND60,000 and VND100,000 per passenger depending on the airports.
TAG: