Blue-chip stocks buoy main index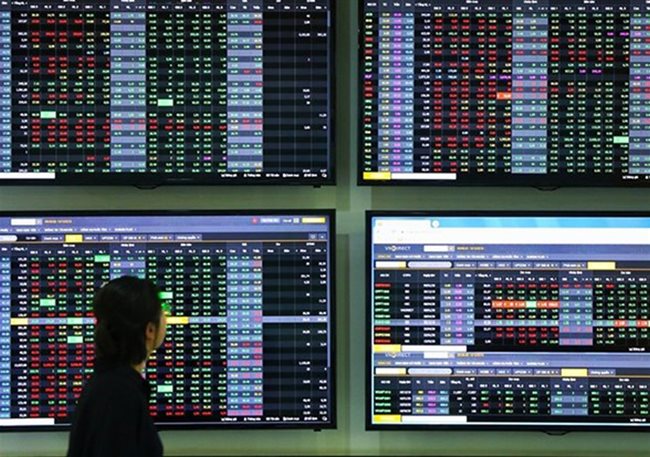 A woman walks past electronic stock quotation boards. The VN-Index rises 4.37 points, or 0.35%, at 1,266.36 today, May 14 - PHOTO: VNA
HCMC – Blue-chip stocks underpinned the Hochiminh Stock Exchange today, May 14, as they helped the VN-Index bounce back after plunging at the beginning of the session.
At the close, the benchmark index added 4.37 points, or 0.35%, against the session earlier at 1,266.36 points with 190 gainers and 220 losers.
Trading volume totaled 731 million shares worth VND22 trillion, up 2.75% in volume and 1.87% in value versus the previous session. Of the total, 51.97 million shares worth over VND1.7 trillion were traded in block deals.
In the VN30 basket, up to 22 stocks advanced. Among the eight falling stocks, six reported a slight decline of some 0.5% each. Sugar producer SBT registered the sharpest fall of 2.7% at VND20,200.
Consumer goods producer MSN was the best performer in the VN30 basket as it surged 5% at VND108,100 with more than 3.6 million shares traded.
Bank stocks were the main driver of the southern bourse with CTG, TCB, TPB and VIB adding over 1% each. VPB and LPB inched up more than 2% each and VPB still maintained its leading position in terms of liquidity on the bourse with over 44.42 million shares changing hands.
Among bank stocks in the southern bourse, HDB reported the largest increase of 3% at VND31,200, the highest since its listing.
While steel and securities stocks extended their losses, many fertilizer stocks gained. For example, BFC and VAF hit their ceiling prices.
Their liquidity also soared, with 2.6 million DPM shares, 5.81 million DCM shares and over 1.56 million BFC shares transacted.
Housing developer FLC also rocketed 7% to its ceiling price of VND12,250 thanks to strong demand. Its liquidity was also positive with over 41.87 million shares matched.
On the Hanoi Stock Exchange, the strong cash flow pushed the HNX-Index to its intra-day high, at 294.72 points, up 7.69 points or 2.68%.
There were some 139.29 million shares worth over VND2.9 trillion changing hands.
Lender SHB recorded the second straight winning session with an increase of 10% to its ceiling price of VND28,600 and saw more than 42 million share traded.
NVB, another bank stock, also supported the index's rise as it added 6% at VND17,800 and had 10.25 million shares matched.
In addition, food service firm KLF jumped 9.6% at VND5,700, its ceiling price.
TAG: