Over 1,300 autos sold each day in April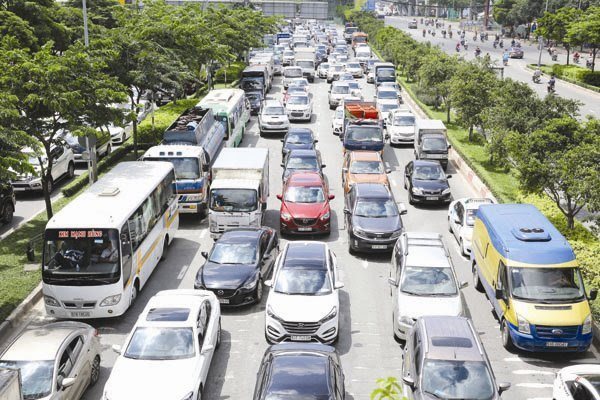 Vehicles travel on a street. April alone saw over 1,300 cars find buyers each day – PHOTO: LE HOANG
HCMC – April alone saw over 1,300 automobiles sold each day, with members of the Vietnam Automobile Manufacturers Association (VAMA) delivering over 1,000 vehicles a day to buyers.
A report released by VAMA on May 12 indicated that over 30,060 cars of all types found buyers in April, down 3% month-on-month and up 155% year-on-year. The numbers of passenger, commercial and special-use vehicles sold were some 20,400, over 8,880 and 780, respectively, down 3% and 6% and up 26% month-on-month.
The number of imported completely-built-up autos sold declined by 8% month-on-month to 12,720 while that of locally assembled vehicles inched down by 1% to 17,340, according to the report.
Among the non-VAMA members, TC Motor, which distributes Hyundai vehicles in the local market, reported sales of some 6,540 vehicles in April, while the consumption of VinFast cars reached some 2,720.
A total of 39,320 vehicles, including cars sold by VAMA members and VinFast and Hyundai autos, found buyers in April, equivalent to over 1,310 cars delivered to customers each day.
In April, the Hyundai Accent car priced at VND425-540 million dominated the local auto market, with sales of 2,150 units, up 56 cars month-on-month, making it the most popular vehicle in a month in 2021 for the first time.
The Toyota Vios came second in consumption, with 1,950 vehicles sold in April, down 20 units month-on-month, followed by VinFast's Fadil car, with the consumption reaching 1,560 units, up 247 cars month-on-month.
Between January and April, VAMA members sold a total of 101,310 vehicles of all types, while non-VAMA member TC Motor recorded auto sales of 22,424 over the past four months and VinFast delivered 9,566 cars to customers.
Auto traders and experts predicted that due to the resurgence of Covid-19, the local auto market would face several difficulties.
TAG: