Vietnam's household debt elevates: HSBC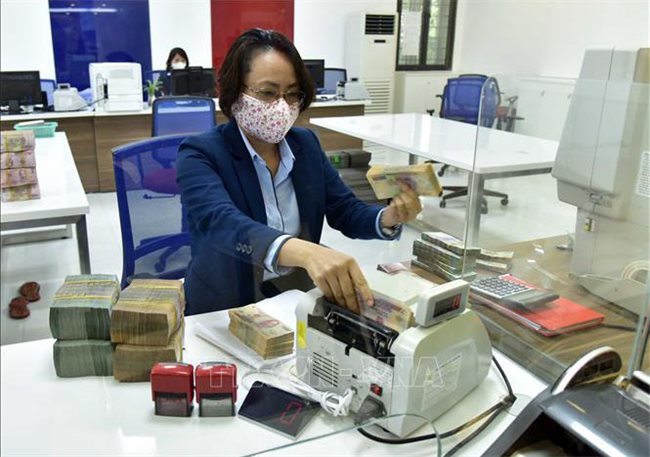 An employee uses a banknote counter to count Vietnamese banknotes at Vietinbank, one of the four major State-owned banks. Loans to households by the four major State-owned banks rose to 46% in 2020 from 28% in 2013 – PHOTO: VNA
HCMC - Loans to households by four major State-owned banks (Big 4)---Vietcombank, BIDV, Vietinbank and Agribank---rose substantially from 28% in 2013 to 46% in 2020, which translated into rapid growth in household debt from 25% of gross domestic product to 61% in the same period, according to HSBC.
HSBC used balance sheets in the latest financial statements and annual reports of the Big 4, which account for half of total loans in Vietnam, to dissect the key data.
HSBC's "Vietnam at a glance - What do banks' balance sheets tell us?" report showed that the sharp rise in riskier consumer lending, along with elevated household debt, remains a big concern in the country.
Growth in household debt moderated significantly in 2020, with a 1% increase compared to an average 3% since 2013, but the level remains elevated.
Consumer loans accounted for roughly 50% of the income of the workforce last year, which is a high ratio for an emerging market such as Vietnam based on the International Monetary Fund's standards.
"Elevated consumer leverage could drag down future consumer spending, especially as labor market conditions have been severely impacted by the Covid-19 pandemic," the report said.
Thanks to the effective containment of Covid-19, Vietnam's economy is in better shape than that of its regional peers. However, its labor market weakness remains a concern for the recovery of domestic demand.
Although the unemployment rate fell to 2.4% in the first quarter of 2021 from a peak of 2.7% in the second quarter of 2020, there were 950,000 fewer jobs than before the pandemic. Besides, a large proportion of the workforce is still employed in the informal sector without adequate safety nets.
The average monthly salary of workers fell 1.5% last year to VND6.6 million. HSBC said there needs to be a fiscal stimulus for vulnerable households and workers.
"Cash transfers and tax deferrals for household businesses need to be accelerated, which would in turn support a rapid recovery in private consumption," the bank suggested.
TAG: