Five localities' airport development proposals rejected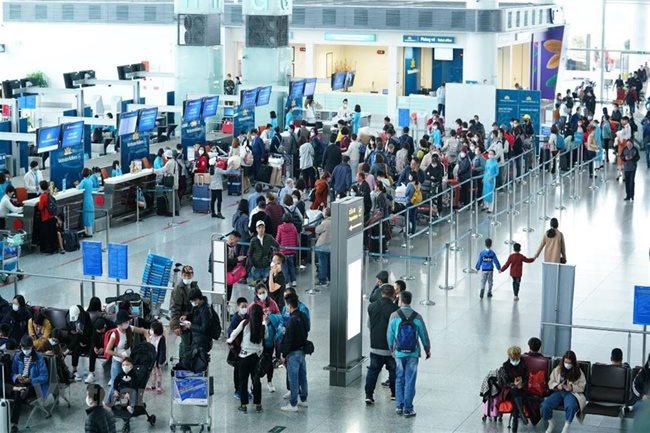 Passengers complete flight procedures at the Noi Bai International Airport. Five localities' airport development proposals have been rejected - PHOTO: VNA
HCMC – The Civil Aviation Authority of Vietnam (CAAV) has rejected proposals by Ha Giang, Bac Giang, Ninh Binh, Binh Phuoc and Ha Tinh provinces to build new airports in their localities or develop their military airports into mixed-use facilities.
In a report sent to the Ministry of Transport, CAAV proposed maintaining the total number of airports in the country at 28 until 2030 and adding the Cao Bang airport by 2050, news site VnExpress reported.
Nguyen Anh Dung, deputy head of the Department of Planning and Investment under the Transport Ministry, said CAAV and transport consulting firm Tedi had set up six main criteria for the necessity and feasibility of new airports, comprising demand, contribution to socioeconomic development, national defense and emergency, natural conditions and their distance to central urban areas and adjacent airports.
They have weighed the proposals carefully, learned from international experiences and concluded that the number of airports must be in line with the country's natural conditions and socioeconomic development strategies, Dung added.
He noted that all the airports which annually serve two million passengers a year have recorded losses. Airports built within 100 kilometers from each other will likely result in low efficiency.
According to Dr Nguyen Bach Tung, an aviation expert, some airport development proposals were unfeasible. For example, Ha Giang has mainly mountainous terrain and does not have enough flat land for the development of an airport, while Ninh Binh has a large area of rice fields that are the main source of livelihood for locals.
Tung said most domestic airports had yet to reach their design capacities. Moreover, residents of Ha Tinh can use the Vinh International Airport in Nghe An or the Dong Hoi Airport in Quang Binh, or passengers in Ninh Binh can fly from the Tho Xuan Airport in Thanh Hoa or the Cat Bi Airport in Haiphong.
According to Pham Van Toi, vice chairman of the Vietnam Association on Aviation Science and Technology, many airport proposals had been made without thorough surveys and calculations. Ha Giang, for example, proposed a mixed-use airport for both military and civil purposes, while it has limited land and airspace.
In its report, CAAV also proposed identifying the position of the second international airport in the northern city of Hai Phong's Tien Lang District.
Tung said Tien Lang had a land fund of 4,000-6,000 hectares available for building an airport with a capacity of up to 100 million passengers a year. The location is some 120 kilometers from Hanoi and less than 100 kilometers from Ha Nam, Thai Binh, Nam Dinh and Hai Duong, so it can serve residents in the south and southeast of Hanoi and ease current overloads at the Noi Bai International Airport.
Toi shared the view, saying that Tien Lang is a good location as it has a large land fund and there is an expressway from it to Hanoi, while the Cat Bi Airport cannot be expanded as it is located near a river.
A Tedi representative said until 2040, a second airport for the capital area is not necessary. After 2040, the competent agencies will decide if a second airport for the area should be built in Tien Lang.
TAG: