Gojek to launch car rides service in Vietnam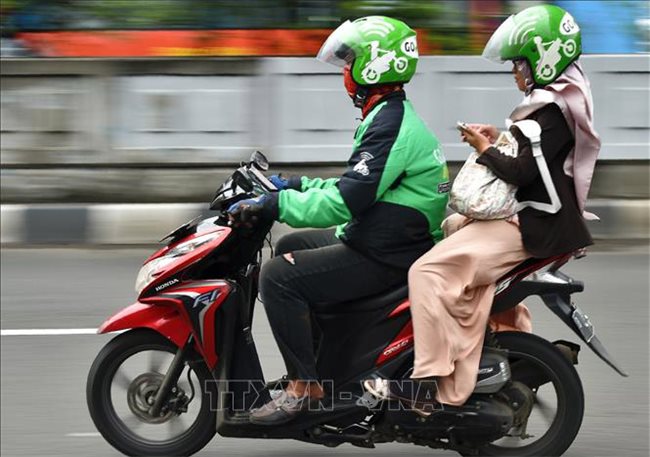 A Gojek driver is seen transporting a passenger. The company will launch its GoCar service in Vietnam in the next few weeks – PHOTO: VNA
HCMC - Ride hailing company Gojek will launch a car rides service in Vietnam in the next few weeks and allow cashless payments later this year, Gojek Vietnam CEO Phung Tuan Duc announced on May 5.
The Indonesia-based company's car rides service in Vietnam will be named GoCar. The exact date when the service will be available has not been revealed.
"We are in the final steps of offering the service," said Duc, adding that the service will comply with Covid-19 preventive measures.
In recent days, the company has been seeking partner drivers for this new service. On the official page of Gojek drivers on Facebook, the administrators said car drivers introduced to Gojek by transport cooperatives can become partner riders for the GoCar service. Up to now, 17 transport cooperatives have worked with Gojek to introduce riders for the GoCar service.
Gojek Vietnam, which was initially GoViet, has been present in the country for three years. The company offers three services comprising motorbike rides (GoRide), food delivery (GoFood) and the delivery of goods (GoSend), while other ride-hailing companies such as Grab and Be offer all these three services plus car rides.
Grab has been offering car rides services in Vietnam since 2014 and Be launched such services in 2018.
Duc said although Gojek is a latecomer for car rides services, there is still much room as the demand for this service will continue to flourish. "We have confidence in expanding the business," he added.
Besides launching the car rides service, Gojek Vietnam will allow cashless payments this year. According to DealStreetAsia, the company has acquired a majority stake in Vietnamese payment startup WePay. The acquisition will help Gojek secure an e-wallet license to operate in Vietnam.
Before Gojek, Grab acquired Vietnamese e-wallet Moca to promote cashless payments for its services in Vietnam in 2018.
Although cash payments remain popular, cashless payments have become preferable thanks to Covid-19, which forces people to restrict direct contact.
TAG: