Bank stocks help VN-Index maintain growth momentum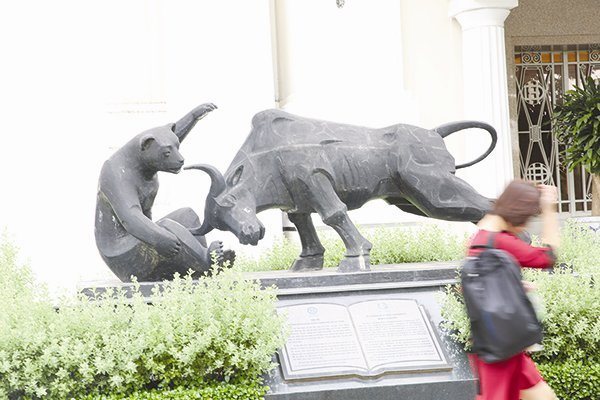 A passer-by walks past the statue of a bull and a bear in front of the Hochiminh Stock Exchange in District 1, HCMC in this file photo. The VN-Index of the Hochiminh Stock Exchange rose 1.15% to close at 1,256.43 points on Wednesday – PHOTO: THANH HOA
HCMC – Bank stocks performed positively on the Hochiminh Stock Exchange and helped the benchmark VN-Index maintain growth momentum, adding 14.23 points, or 1.15%, from the session earlier to close at 1,256.43 points today, May 5.
Winning stocks far outnumbered losers by 330 to 93. The southern bourse saw trade volume and value fell slightly to 744.4 million shares and VND21.2 trillion, respectively. Some 59 million shares worth VND2.19 trillion were traded in block deals.
In the VN30 basket, 25 stocks gained ground, while only four declined and one closed at the reference price.
Among bank stocks, HDB and TCB were the biggest gainers, surging 6.8% to VND17,400 and 5.9% to VND45,950, respectively. STB, CTG, VPB, ACB and MSB increased between 1% and 3%.
STB, TCB and MBB were the most actively traded bank stocks, with 51.7 million shares, 28.2 million shares and 25.9 million shares changing hands, respectively. CTG, VPB, ACB and MSB had approximately 20 million shares traded each.
Petroleum stocks were also good performers. BSR soared nearly 12%, PVB and OIL surged over 7% and PVT and POW expanded over 5% each.
The major contributors also included securities stocks. AGR, ART, CTS and FTS shot up to the ceiling prices, while SSI, VCI, VND, MBS and SHS rose over 2%.
In the group of speculative stocks, ROS, FLC, HAI, ADM and PVD shot up to the ceiling prices.
On the Hanoi Stock Exchange, the HNX-Index rose 1.69%, or 3.22 points, to close at 280.93 points, with gainers outnumbering decliners by 156 to 78. There were some 134.8 million shares worth more than VND2.84 trillion changing hands, increasing 31.6% in volume and 53% in value compared with the previous session.
The major contributors were petroleum stock PVS, which shot up to the ceiling price at VND21,600, and securities companies VND and SHS and property enterprise CEO, which rose between 2% and over 3%.
In the group of speculative stocks, securities enterprise ART shot up to the ceiling price at VND10,000, while food service firm KLF and property group HUT surged 8% to VND5,400 and 6.8% to VND6,300, respectively.
Lender SHB took the lead in terms of liquidity on the northern bourse, with 18.6 million shares traded.
TAG: