Securities firms set high profit targets for 2021 on positive stock market
As the market benchmark VN-Index broke the psychological level of 1,200 points, along with many positive outlooks about the market, securities firms set big growth targets for 2021.
 Of which, many companies expected their profits to reach trillions of dong.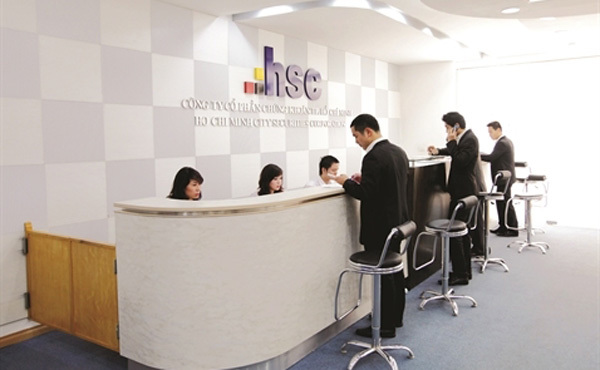 Trading hours at Ho Chi Minh City Securities Corporation (HSC). Photo nhipcaudautu.vn
At the General Meeting of Shareholders held at the end of April, Viet Capital Securities JSC (VCSC) approved a business plan with a profit before tax target of VND1.25 trillion, up 31.4 per cent year-on-year.
In 2021, VCSC will restart large-scale M&A consulting deals, strengthening its position in investment banking (IB). 
VCSC's existing contracts worth around VND40 trillion are in consumer finance, consumer goods and logistics. Revenue from these contracts is estimated to reach VND2.05 trillion, up 18.5 per cent over last year. 
The growth scenario is based on expectations that the VN-Index will hover around the 1,250 point-level this year. 
If the plan is completed, VCSC will be in the list of securities firms with profit before tax reaching over VND1 trillion after two years of absence.
With the bullish market, Ho Chi Minh City Securities Corporation (HSC) also set a target of VND1 trillion in profit before tax in 2021. 
This year, HSC aims to achieve total revenue of over VND2.6 trillion, up 68 per cent year-on-year. Its profit before tax is expected to reach over VND1.2 trillion, up 82 per cent.
The company's return on average equity (ROAE) in 2021 is predicted to climb 17.1 per cent. Of which, brokerage, margin lending and proprietary trading are still the main businesses that create HSC's profit.
According to HSC, the business plan is built on the average daily market transaction value in 2020, the first quarter result and the market trend for this whole year. 
In the first quarter of 2021, HSC posted an increase of 218.7 per cent in profit after tax to VND321.8 billion. 
Similarly, at the General Meeting of Shareholders this year, VNDirect Securities Corporation also achieved a consensus on the parent company's revenue target of over VND2.5 trillion, up 20 per cent against last year and expected profit before tax of VND1.1 trillion, up 29 per cent. 
This profit plan is built according to a scenario that forecasted the VN-Index to fluctuate in the range of 1,180 - 1,230 points in 2021. 
This is also the first time VNDirect has set an ambitious profit target of up to trillions of dong. 
At the end of the first quarter of 2021, VNDirect's total revenue climbed 132.7 per cent year-on-year to top VND1.06 trillion, resulting in an increase of nearly 725 per cent to VND482.5 billion in profit after tax. 
Techcom Securities JSC (TCBS) and SSI Securities Corporation (SSI) are other securities companies with targets of over VND1 trillion in profit this year. 
These two companies also posted profit before tax of over VND1 trillion last year. 
In 2021, TCBS estimated its profit before tax to reach over VND3.3 trillion, up 23 per cent over last year.
In the first quarter of 2021, TCBS recorded total revenue of over VND1.02 trillion with profit before tax of VND843 billion, up 61 per cent and 65 per cent over same period of last year, respectively. Pre-tax profit margin reached 82 per cent. 
TCBS occupies the largest market share in profit among securities companies in Vietnam, accounting for 21.8 per cent of the market share.
SSI, which is the second largest securities firm in profit, also expected an optimistic result this year, even though it hasn't held the General Meeting in Shareholders this year, according to report prepared for the meeting. 
In 2021, SSI aims to achieve consolidated revenue of over VND5.3 trillion and consolidated profit before tax of VND1.87 trillion, which is up 20 per cent year-on-year. 
The Board of Directors of SSI will make accommodative adjustment if the VN-Index and the market's liquidity do not reach the assumed levels. 
VNS
TAG: