VIETNAM BUSINESS NEWS MAY 5
Rubber industry needs to develop production chain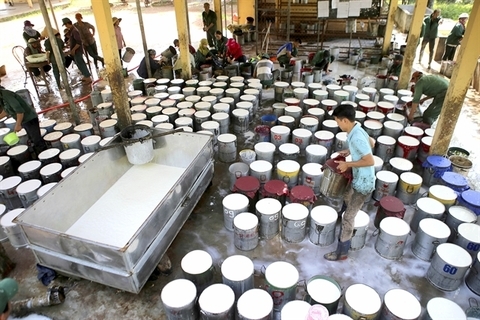 Rubber latex of Quang Tri Rubber Co Ltd. Viet Nam's rubber industry needs to develop its production chain to meet the increasing demands of export markets.
Viet Nam's rubber industry needs to develop its production chain to meet the increasing demands of export markets, especially fastidious markets such as Europe and the US, according to experts.
To Xuan Phuc, an expert of Forest Trends said Viet Nam's export of processed rubber has been increasing to many countries. However, Viet Nam's export rubber products must meet many requirements on the export market, including legal issues.
At present, Viet Nam has exported latex and refined rubber products to 175 countries and this figure is continuing to expand.
Viet Nam's largest export market for rubber products was the United States, reaching about US$1 billion in 2020, with a market share of 33.2 per cent, followed by Japan, China, South Korea and Germany.
However, there is a situation that the amount of rubber harvested from small farms is higher than that of large rubber plantations, according to Phuc.
Therefore, the Vietnamese rubber industry needs to make changes in the future to meet the market requirements.
The industry needs to be transparent about the production supply chains, including information about supply and chain activities.
According to Tran Thi Thuy Hoa, expert from the Rubber Research Institute of Vietnam, small rubber farms have become one of the most important parts in the rubber industry. Especially, in the production of natural rubber, small rubber farms' supply has accounted for over 60 per cent of the total output of natural rubber. However, small rubber farms have been developed mainly by spontaneity.
Small households have sold latex mainly via traders without recording enough information about transactions among them.
Therefore, there is a lack of information from all stages of the supply chain, including information on links between households and the traders, meaning a failure to meet the requirements of export markets.
This reduces opportunities for the households and businesses to access the market, but also creates risks for the Vietnamese rubber industry when entering the export market in the future, according to Hoa.
On the other hand, the market's tendency to require legal and sustainable products is inevitable in the future, so Viet Nam's rubber industry must comply with the market requirement.
According to Viet Nam Rubber Association, in 2020, Viet Nam's export value of natural rubber reached over $2.38 billion, accounting for 30.3 per cent of the total export value of the rubber industry.
Export value of processed rubber products was about $3.11 billion in 2020, accounting for 39.6 per cent. Rubber wood exports was $2.36 billion, accounting for 30.1 per cent.
Export turnover of natural rubber and rubber products of Vietnam has increased in recent years.
Viet Nam has the fifth largest rubber area growing rubber trees in the world, but its output ranked third, only after Thailand and Indonesia.
It has exported mainly raw material of latex accounting for about 78.4 per cent. The rest (21.6 per cent) has been processed products such as tires, gloves, accessories and soles of shoes.
Construction material prices recover
Prices of construction materials such as steel, bricks and sand are recovering post-pandemic, hitting contractors' profits.
Cao Van Hong, a contractor, told Thanh Nien newspaper that the cost of construction materials had been rising for the last few months.
Associate Professor Ngo Tri Long, former rector of the Ministry of Finance's Price and Market Research Institute, said prices were up by around 20 percent year-on-year.
Steel, which accounts for 20 percent of the cost of a building, has increased by 40 percent.
Construction sand is becoming scarce in the Mekong Delta, a major supplier, and buyers wanting large quantities have to wait for a month and often pay more than the originally quoted price.
Le Nhu Thuy My, Director of the Nhan Quoc Ceramic Tiles Company in Dong Nai Province, said there had been a slight increase in ceramic tile prices due to a rise in packaging costs and the rising electricity, petrol, coal, and transportation costs.
The spike in costs is forcing contractors to increase prices or delay work to prevent losses.
Nguyen Quoc Hiep, Chairman of the Viet Nam Association of Construction Contractors, said many contractors signed fixed-price contracts and so took a hit when costs rise.
Construction accounts for nearly 10 percent of Vietnam's GDP./.
Shares mixed on resurgence of COVID-19
The stock market closed the first session of May on a mixed note as the growth of banking shares rescued the VN-Index from a fall while the HNX-Index slumped due to the resurgence of COVID-19 in Viet Nam.
On the Ho Chi Minh Stock Exchange, the VN-Index closed Tuesday up 0.23 per cent at 1,242.2 points.
Market breadth was negative with 252 shares falling, 140 rising and 50 closing flat.
Viet Nam's benchmark index had traded below the threshold for most of the day but the recovery of many banks cushioned the market.
Seven of the nine listed banks in the VN30 climbed, including Vietinbank (CTG, up 2.2 per cent), Techcombank (TCB, up 2.4 per cent), Vietnam Prosperity Bank (VBP, up 1 per cent), Military Bank (MBB, up 0.9 per cent), Tien Phong Bank (TPB, up 0.6 per cent) and the Bank for the Investment and Development of Vietnam (BID, up 0.3 per cent).
Other gainers included Vingroup (VIC), steelmaker Hoa Phat Group (HPG), FPT Group (FPT), Khang Dien House Trading and Investment (KDH), with a growth of between 1.7 per cent and 2.4 per cent.
However, a number of blue chips slumped and dragged the market such as Vinamilk (VNM), insurer Bao Viet (BVH), Masan Group (MSN), PV Gas (GAS) and Mobile World (MWG).
Liquidity remained good with 798.5 million shares worth VND21.5 trillion (US928 million) traded in the southern market.
According to analysts, investors are still influenced by "sell in May" psychological factors and the resurgence of COVID-19 in several cities.
Although some firms reported positive business results in the first quarter, their stock prices are still going down. For example, sugarmaker Thanh Thanh Cong-Bien Hoa JSC reported its Q1 net profit climbed 225 per cent but its stock price fell 0.3 per cent on Tuesday.
According to Bao Viet Securities Co, the socio-economic report in April and the first four months of the year announced by the General Statistics Office last week with the CPI in April decreasing by 0.04 per cent from the previous month showed the rather good condition of the economy.
The VN-Index is forecasted to challenge the resistance zone of 1,268-1,275 points in the first week of May. This is still the resistance zone that might create fluctuations, adjusting the index when approached, analysts said.
On the Ha Noi Stock Exchange, the HNX-Index fell 1.43 per cent to close at 277.71 points.
More than 102 million shares worth nearly VND2 trillion were exchanged in the northern bourse. 
Gov't may set up working group to address bottlenecks in investment projects
Prime Minister Pham Minh Chinh has tasked the Ministry of Planning and Investment to put forward a proposal on establishment of a working group to address bottlenecks in investment projects.
Deputy Prime Minister Pham Binh Minh may be assigned to lead to the working group.
The Government chief also urged the ministry to have innovative approach to economic management and develop a socialist-oriented market economy which is independent, self-reliant, muti-sectoral, and deeply integrated into the world.
It is asked to end scattered and inefficient investment, design mechanisms and policies to promote the leading role of public investment, and mobilize non-state capital in order foster growth.
The ministry needs to focus on improving its state management capacity, especially in designing development strategies and planning schemes.
Preferential mechanisms and policies for priority areas and key tasks must worked out, required PM Pham./.
Viet Nam sees strong import, export recovery in first quarter
Viet Nam saw strong import-export recovery in the first quarter, estimated at US$152.65 billion, up 24.1 per cent year-on-year, said an industry and trade official.
Tran Thanh Hai, deputy director of the Agency of Foreign Trade under the Ministry of Industry and Trade, said: "Viet Nam has been making good use of the new-generation FTAs that have taken effect, such as the EU-Viet Nam Free Trade Agreement (EVFTA), the UK-Viet Nam Free Trade Agreement (UKVFTA) and the Comprehensive and Progressive Agreement for Trans-Pacific Partnership (CPTPP)."
The country saw exports jump by 22 per cent year-on-year in the first quarter, according to Hai.
He said that exporters should continue to innovate and improve production to take advantage of the new-generation FTAs.
The Regional Comprehensive Economic Partnership (RCEP) is also about to take effect, which will help to boost exports as well, he noted.
Prior to the EVFTA taking effect in June 2020, exports to the EU market were $29.44 billion in the first three quarters of 2020, down 4.7 per cent over the same period in 2019.
But only three months after the EVFTA took effect, exports to the EU market reached $11.08 billion, up 5 per cent over the same period in 2019.
As of the end of 2020, exports to the EU market had reached $40.05 billion, according to Hai.
In the first quarter, electronic products, electric appliances and furniture benefitted the most from increased demand from European and North American markets, he said. However, footwear as well as garment and textile exports faced challenges caused by the disruption of supply chains.
Nguyen Van Thoi, chairman of TNG Investment and Trading Joint Stock Company, said the company had revenue of VND326 billion in March, a rise of more than 28 per cent over the same period last year, bringing total revenue in the first quarter to VND910 billion, up 18 per cent against the same period last year.
The company has export orders that continue until the end of July. To prepare for the production of exports, TNG will establish an outsourcing development branch in the northern city of Thai Nguyen, he said.
The wood industry also saw an increase in export orders. In the first three months, exports of wood and wooden products were estimated at $3.7 billion, up 41.5 per cent over the same period last year.
Do Xuan Lap, chairman of the Viet Nam Timber and Forest Products Association, said that many wood businesses have full export orders until the end of 2021.
As for the UKVFTA, which took effect on January 1, Vietnamese exports to the UK market reached $1.6 billion in the first quarter, up 22 per cent year-on-year.
Viet Nam has signed 15 FTAs , 14 of which are under implementation. One has not taken effect and two are under negotiation.
Among the 15 signed FTAs, there are three new-generation FTAs, the CPTPP, EVFTA and UKVFTA, according to the Ministry of Industry and Trade.
The country's exports increased 22 per cent to reach $77.34 billion in the first quarter, while the trade surplus was estimated at $2.03 billion, according to the General Statistics Office.
The total merchandise import-export turnover in the first quarter reached $152.65 billion, up 24.1 per cent over the same period last year. While exports reached $77.34 billion, imports rose to $75.31 billion, up 26.3 per cent.
In the first quarter, there were 11 items with export turnover of more than $1 billion, accounting for 76.6 per cent of the total export turnover. They included four items with export turnover of over $5 billion, accounting for 54.7 per cent.
The production expectation in the second quarter is more positive, as there was an increase of 27.5 per cent in registered capital at VND447.8 trillion ($19.46 billion) in the first quarter, according to the General Statistics Office.
A survey of business trends of enterprises in the manufacturing and processing industries showed that enterprises expect their production and business in the second quarter to be better than the first quarter. 
Banks to serve with soaring capital needs of businesses
Strong increase in capital demand has been seen as production activities of enterprises gradually showed signs of recovery, forcing banks to reschedule their lending plans.
According to the State Bank of Viet Nam (SBV), deposit and lending interest rates continued to decline compared to the end of last year. The central bank required commercial banks to strictly control credit flow in risky areas such as real estate and securities to accumulate capital for production and business of priority sectors.
As of April 16, the economy's credit increased by 3.34 per cent compared to the end of last year. In the first quarter of 2020, the credit of the economy only increased by 1.47 per cent.
Nguyen Hoang Minh, Deputy Director of the State Bank in charge of HCM City Branch, said capital mobilisation increased only 0.7 per cent while outstanding credit increased by 3.5 per cent compared to the end of last year.
Leaders at some commercial banks told media demand for capital from businesses and the market is increasing as the economy recovers from the COVID-19.
The deputy general director of one plastic company, which could borrow with the lowest interest rate in the industry at about 5.4 per cent per year, said: "Production and business activities recovered quite strongly compared to last year, and the company's capital demand is large. Our enterprises are also classified as high credit, so they are given priority by the bank."
Talking at the recent 2021 annual shareholder meeting, Nguyen Duc Thach Diem, General Director of Saigon Thuong Tin Commercial Joint Stock Bank (Sacombank), said that by mid-April this year, the bank's capital mobilisation increased by just 3.5 per cent while lending increased to 5.8 per cent.
Previously, the general director of Sacombank also said that many individual and corporate customers contacted the bank for loans. As credit growth target was only about 9 per cent this year, it could not meet all of the demand but instead focus on production businesses and limit the flow to real estate.
Nghiem Xuan Thanh, chairman of Joint Stock Commercial Bank for Foreign Trade of Vietnam (Vietcombank), said the bank's credit balance increased by 3.7 per cent while the whole system increased by 2.93 per cent, adding the bank was number one in credit growth last year and continued to have the largest growth in term of credit so far this year.
Seeing the increase, the central bank again told commercial bank to manage their lending, in which they must offer low interest rates for production firms, helping them recover, while most of the commercial banks wanted to increase their credit limit to serve demand.
At the same time, leaders of many banks said that they would strictly control capital in risky areas such as real estate projects, BOT, and securities.
Leader of one large-scale joint stock bank said: "Banks are tightly controlling capital flows into real estate, especially in areas with land fever. For individual customers, if they ask for a loan to buy a house to live in, they will be given preferential treatment but if they borrow to buy a house as an investment to rent, the bank will apply higher interest and lending rates because of higher risk factors."
Nguyen Tuan Anh, director of the credit department of SBV told the banking industry meeting on Q1 results that the central bank set this year's credit target of about 12 per cent and it would be adjusted in accordance with the actual developments and situation.
Again, Anh said SBV required credit institutions to continue to expand their capital and focus on lending to priority areas and tightly control credit in potentially risky areas such as real estate, BOT projects, and securities.
At the same time, the central bank asked credit institutions to continue implementing solutions to overcome difficulties for people and businesses affected by the pandemic.
According to statistics to the beginning of April, 2021, credit institutions have restructured the repayment term for 262,000 customers with a loan balance of about VND357 trillion (US$15.38 billion) as well as exempting and reducing interest rates for more than 663,000 customers with outstanding loans of VND1.27 million billion, giving new loans worth more than VND3.16 million billion with preferential interest rates with accumulated sales from January 23, 2020. 
PAN Group to raise stake in Khang An Food
Vietnamese agriculture and food company PAN Group JSC (PAN) has announced plans to contribute VND100 billion (US$4.3 million) to Khang An Food Joint Stock Company to increase its ownership to 28.57 per cent of charter capital in this company.
Khang An Food currently has a charter capital of VND234 billion and expects to increase the figure to VND350 billion, with an aim of investing in a processing factory for shrimp and a shrimp farming area, in 2021.
As of March 31 this year, Sao Ta Food Joint Stock Company (FMC) owned 77.09 per cent of charter capital in Khang An Food Joint Stock Company. Meanwhile, PAN owns 64.45 per cent of the capital at Sao Ta Food.
This year, PAN hopes to achieve net revenue of VND10 trillion and an after-tax profit of VND419 billion, up 20.4 per cent and 25.7 per cent, respectively, compared to 2020.
Based in the southern province of Soc Trang, Sao Ta is involved in farming and processing prawn and shrimp. Its products are mostly sold in Japan, the US and Canada.
Khang An Food also operates in processing and preserving seafood, buying and selling food, preliminary processed agricultural products, production and export of agricultural products.
Four new payment intermediaries licensed in Vietnam since 2021
From the beginning of the year, the State Bank of Vietnam (SBV) has issued new licences to four non-bank payment intermediaries, showing the increasing demand by local firms to join the fintech rush. 

Most recently, on April 12, the SBV granted a licence to Vietnam Post Corporation.
Accordingly, Vietnam Post has just launched an Intermediary Payment and Fintech Division to oversee fintech and patment operations. General director Chu Quang Hao is heading up this division.
On March 9, MobiFone has received a license from the central bank to provide payment intermediary services.
The new license for intermediary payment service provision is expected to pave the way for MobiFone to roll out mobile money services right after the government authorises implementation.
Meanwhile, OneFin and Jetpay were granted licences in January. On its official website, OneFin describes itself as one of the leading companies in applying e-payment solutions and technologies, including services related to e-wallets, payment gateways with outstanding security features, processing speed, and convenience for customers and partners. 
These licences come after major Vietnamese behemoths such as Viettel, VNPT, and FPT have expanded into the lucrative payments industry.
For instance, FPT Telecom was granted a licence in last August after two years as a non-bank intermediary payment service provider, with Foxpay as its core product.These large corporations could take advantage of their nationwide networks, large customer base, and solid financial capacity to take over the market.
As of April 22, the SBV has granted licences for 43 non-bank intermediary payment services companies.
Vietnam's fintech startup landscape almost tripled in size between 2017 and 2020, growing from 44 startups in 2017 to 121 startups in December 2020, according to a new report released by Fintech News Singapore.
Industrial production rises at fastest pace since late 2018  
Total new orders increased for the eighth month running, and at the fastest pace in close to two-and-a-half years.
The Vietnam Manufacturing Purchasing Managers' Index (PMI) rose for the third month running, posting 54.7 in April following a reading of 53.6 in March and was the strongest since November 2018, according to Nikkei and IHS Markit. 
"Output and new orders each rose to the greatest extent since late-2018, and there were encouraging reports that customers were often happy to place larger orders amid greater confidence in the sustainability of the current expansion," said Andrew Harker, associate director at IHS Markit, which compiles the survey.
"Inflationary pressures remained elevated, with output prices increasing at the fastest pace for almost a decade. There were some signs, however, that the severity of the difficulties in supply chains may be easing, which will hopefully reduce some of the upward pressure on prices," he noted.
The industrial sector was boosted in April by signs that customers were willing to commit to larger orders than previously, given general improvements in demand and control over the Covid-19 pandemic. Total new orders increased for the eighth month running, and at the fastest pace in close to two-and-a-half years.
New export orders also continued to rise amid an improving international demand climate.
Higher new orders fed through to a similarly-sized expansion of manufacturing output, with production also up at the fastest pace since November 2018. Consumer goods firms posted the sharpest rise in output of the three broad categories covered. 
Firms were aided in their efforts to boost production by increasing workforce numbers. Staffing levels were expanded for the third month running, and to the greatest extent since December 2018. This increased capacity, however, was not sufficient to prevent a first rise in backlogs of work in 15 months due to the strength of new order growth.
As well as raising staffing levels, firms also posted a sharp and accelerated expansion of purchasing activity. Respondents indicated that the increase in input buying was both in response to higher new orders and as part of efforts to build reserves to support production growth in the months ahead.
Efforts to expand inventory holdings were generally successful in April, with both stocks of purchases and finished goods increasing. In both cases, the rate of accumulation was solid and faster than at the end of the first quarter.
There were some signs that recent severe disruption to supply chains eased in April. While suppliers' delivery times continued to lengthen, the latest deterioration in vendor performance was modest and the softest since last September. Where lead times did lengthen, there were ongoing reports of raw material shortages and global shipping difficulties.
Supply shortages and rising shipping costs continued to feed through to higher input prices. The rate of cost inflation remained substantial and was only slightly slower than that seen in March. In turn, firms raised their selling prices sharply, with the rate of inflation quickening to the fastest for close to a decade.
Expectations that the Covid-19 pandemic will remain under control leading to higher demand, and the introduction of new product lines, supported ongoing confidence among firms regarding the 12-month outlook for production.
Austrian firms expect opportunities from Vietnam
The portal of the Austrian Federal Economic Chamber has run an article hailing Vietnam's consistent, drastic and effective measures against the COVID-19 pandemic, adding that the Vietnamese market remains attractive to Austrian firms.
The article said it is not without reason that the Austria's IC- Steiermark Centre (ICS) has brought Vietnam into a focus programme this year, on the back of its 2.9 percent economic growth, which could reach 5-7 percent this year.
It quoted Austrian Commercial Counsellor in Ho Chi Minh City Dietmar Schwank as saying that Vietnam has insisted on virus containment and wide quarantine for immigrants. Such policy has proven successful in both health and economic terms. Border closure, a 14-day quarantine without exceptions and a consistent anti-pandemic plan have helped Vietnam curb the virus spread.
Meanwhile, failures in tourism sector which experienced a boom with 18 million visitors in 2019 could be offset by public investment, manufacturing and domestic consumption.
Additionally, the Vietnamese Government also offered aid packages to enterprises and the unemployed.
In political and macro-economic terms, the author hailed Vietnam as stable country with its key policies of economic liberalisation, investment in infrastructure and foreign investment attraction. All such factors have made Vietnam attractive to Austrian companies.
According to the article, the European Union – Vietnam Free Trade Agreement, which took effect in August 2020, has also brought advantages to bilateral cooperation. Vietnam is now the largest trade partner of Austria in Southeast Asia, with imports from the latter amounting to nearly 1 billion EUR. New business opportunities could be identified in infrastructure, health care, energy, urban technology, environment, security, disaster management, hi-tech products and production machinery.
The ICS's adding Vietnam into its 2021 focus programme could open up a series of events such as seminars and trips to the country this autumn.
The centre said exporters and Austrian firms operating in mechanical engineering, food and pharmaceuticals will enjoy many chances when navigating the Vietnamese market./.
Intellectual property helps companies consolidate foothold
Given the increasing level of competition generated by global integration, in addition to improving product quality and expanding markets, companies should also pay greater attention to intellectual property, which can be a powerful tool in competing with foreign rivals.
This company protected the intellectual property of its products before introducing them to the market, giving it confidence in competing with rivals, as copyrighted products often win more trust from customers.
Intellectual property protects not only tangible but also intangible assets. It is also a bridge bringing the ideas of enterprises closer to customers.
Though intellectual property brings about a lot of competitive advantages, many companies still overlook the task, resulting in losing their brands to rivals and even partners. Let's take ST25 rice as an example, which had its brand registered by a foreign company with nothing at all to do with its production.
Intellectual property is a set of powerful tools for a company to fight in the market. They include brand name, design, copyright, patents, and geographical indication, etc. Once these tools are fully utilised, a company's foothold in the market is consolidated./.
Honda Vietnam to recall 27,640 cars with faulty pumps
Honda Vietnam has recently announced that it will recall 27,640 units due to faulty fuel pumps, beginning on May 5.
All made in 2019, the vehicles include 8,626 Honda CITY produced between January 2 and September 16; 3,630 Honda HR-V between January 14 and August 31; 1,140 Honda CIVIC manufactured between February 20 and September 28; 10,687 Honda CR-V between January 3 and July 30; and 443 Honda ACCORD produced between July 3 and October 3.
The fault in pumps can cause engines to stall or fail to start, Honda Vietnam said.
No related accidents have been recorded so far but the manufacturer recommended its customers get their pumps replaced for standard ones to ensure their interests and safety.
The replacement will be done free of charge./.
Gas well 61 lays foundation for oil and gas development
Gas well 61, the first well found in March 1975 at the Tien Hai C structure in Dong Co commune, Tien Hai district, in the northern province of Thai Binh, created a foundation for Vietnam to enter into the promising gas sector.
Vietnam has found a wide range of gas wells whose reserves are much larger than well 61, such as Ca Voi Xanh (Blue Whale) field and Ken Bau field. However, well 61 will forever be a turning point for the country's oil and gas development, as envisaged by President Ho Chi Minh in 1959.
The oil and gas industry has achieved various milestones thanks to the discovery of the well, with the first industrial gas flow being used to generate 10MW of electricity in Thai Binh province on April 19, 1981, and the first commercial gas flow taken to shore from the Bach Ho oilfield in the southern province of Ba Ria-Vung Tau in May 1995.
Before 1995, gas separated from crude oil at rigs was fired because Vietnam's facilities at that time were not good enough to collect and transport gas to shore. Together with increasing oil exploitation, the amount of burnt gas became larger, causing environmental pollution and waste of the natural resource.
To this end, the Vietnam Oil and Gas Group (PetroVietnam) worked to build and put gas facilities into operation, helping to use gas resources in an effective manner while meeting energy demand for the nation's economic development.
The PetroVietnam Gas Corporation (PV GAS) was then established, and played a leading role in the nation's gas sector.
Over the past 30 years, PV GAS developed sound infrastructure for the gas sector valued at more than 62 trillion VND (2.68 billion USD), comprising five gas systems with more than 1,200 km of pipes, three gas treatment plants, 13 liquefied petroleum gas (LPG) warehouses with a capacity of nearly 100,000 tonnes, and a gas distribution system.
Each year, PV GAS supplies materials for the production of nearly 20 percent of the country's power and 70 percent of nitrogenous fertiliser. Holding the lion's share of the domestic dry gas and LPG market, the corporation has also affirmed its important role in the global market in the LPG business./.
Vietnam posts positive signs in FDI attraction
Vietnam's success in the fight against COVID-19 and its overall stability have increased its competitiveness and resulted in positive outcomes in foreign direct investment (FDI) attraction since the start of the year, Director of the Foreign Investment Agency under the Ministry of Planning and Investment, Do Nhat Hoang, has said.
The country needs to further capitalise on its strengths, potential, and opportunities to absorb future investment, he added.
Vietnam clearly exhibits stability in its macro-economic and political situations and boasts a high level of prestige in investment attraction, as the number of large-scale energy and processing-manufacturing projects applying high technology in key sectors has been on the rise.
As of April 20, foreign investors had pumped 12.25 billion USD into Vietnam this year, equal to 99.3 percent of the amount recorded in the same period last year.
Among the 67 countries and territories with investment projects during the period, Singapore led with 4.8 billion USD, followed by Japan with more than 2.5 billion USD and the Republic of Korea with 1.5 billion USD.
The country is also working to attract projects from Europe and the US.
Various incentives for FDI investors have been launched, along with opportunities brought about by new generation free trade agreements Vietnam has signed. The Government has also exerted efforts in administrative reforms and in improving the investment climate.
Meanwhile, relevant agencies have been advised to call for investment from multinational corporations with strengths in capital and technology, thus helping domestic companies access modern technologies and work with foreign counterparts in further joining global value chains.
Localities must revise their legal documents and investment policies to address any inconsistencies and should take the initiative in choosing projects that match their own potential and investment orientation.
Priority should be given to hi-tech, energy and space-saving, and environmentally-friendly projects./.
Businesses must devise schemes to boost exports amid COVID-19
Local firms have been advised to become more flexible and consider changing which type of transportation they use when shipping goods to promote the greater production of empty containers to deal with the shortage of empty containers and the recent rise in freight rates.
Nguyen Dinh Tung, general director of Vina T&T Group, an enterprise that specialises in exporting agricultural products to the United States, Australia, Japan, and Canada, said his company are concerned that high freight costs by shipping lines and slow delivery to partners will impact their reputation and the overall product quality.
This comes after the recent shortage of empty containers has caused exporters to encounter plenty of difficulties when trying to meet the orders of foreign partners on time, while the lack of empty containers with a short delivery deadline is seen as contributory factor to causing shipping rates to climb higher.
Tung also emphasised that the Government needs to work alongside foreign shipping lines in order to request them to provide timely support for local export firms as a way of reducing freight costs during this challenging period.
Tran Thanh Hai, deputy director of the Import and Export Department, urged domestic businesses to take advantage of using other forms of transport, including rail transport instead of simply using sea links to deal with the issue. Indeed, Hai believes that each enterprise must have a reserve fund and diversify their import and export markets in order to avoid reliance on a single market.
How to optimise FTAs to achieve economic growth through e-commerce
As many as 14 free trade agreements (FTAs) have come into force since the beginning of this year, a factor which has enabled the country to establish links with 52 partners, including leading trading partners.
The nation's trade balance of goods during the first quarter of the year stood at an estimated US$2.03 billion in trade surplus, with export turnover reaching a sum of US$77.34 billion.
This comes as export speed has surpassed several major economies throughout Asia, such as Singapore, Thailand, the Republic of Korea, in addition to Europe. A number of impressive figures relating to export growth indicate that Vietnamese enterprises have made initial approaches and moved to take full advantage of the opportunities from new generation FTAs.
These trade deals are the ideal tools which can turn opportunities into a fresh driving force behind the development of the national economy as they can open up competition to many service industries, thereby attracting greater investment whilst revamping institutions for the purpose of sustainable development.
The impact of the novel coronavirus (COVID-19) pandemic has served to disrupt global supply chains and promote non-traditional sectors, including e-commerce, which is seen as an effective solution in dealing with the disruption of supply and demand to the local economy. Making use of e-commerce platforms by capitalising upon opportunities offered by the FTAs provides Vietnamese businesses with a digital platform which they can utilise in order to achieve more effective market penetration.
As a means of strongly developing e-commerce moving forward, as well as making effective use of FTAs through digital commerce platforms, the Department of E-commerce and Digital Economy under the Ministry of Industry and Trade (MoIT) has completed a national database on Vietnamese firms. This holds a profile of domestic enterprises and is viewed as a reliable source of reference and appraisal data for state management agencies, along with international trading partners.
The purpose of the database is to build confidence among international trading partners in both Vietnamese branded products and services, a move which can help to improve the competitiveness of businesses.
Several economic experts state that the requirement for local enterprises is to be transparent and digitise their operations. Along with this, it remains necessary to develop a full, detailed, and specific sales policy. This should be done alongside learning and fully grasping the rules of e-commerce platforms regarding delivery, payment, and all forms in terms of quality assurance, traceability, and an understanding of international trade practices to minimise potential risks of economic damage.
MoIT statistics reveal that Vietnamese e-commerce last year grew by 18% to more than US$11 billion. Major global groups such as Google, Temasek, and Bain & Company forecast that with a growth rate of 29% throughout the 2020 to 2025 period, the size of the Vietnamese digital economy is likely to exceed US$52 billion and will be the third largest in ASEAN by 2025.
Hai Duong lychees to be launched on four major e-commerce floors
The Hai Duong Department of Agriculture and Rural Development are co-operating alongside the Vietnam Trade Promotion Agency in order to conduct procedures aimed at bringing Hai Duong lychees to four e-commerce platforms, including Alibaba. com, Voso.vn, Sendo.vn, and Lazada.vn.
Hai Duong province is home to a lychee growing area spanning 9,186 ha, of which 1,000 ha are certified in line with VietGAP standards, while 520 ha of lychees have been grown in line with GlobalGAP standards.
Most notably, Thanh Ha district features 17 cultivation regions that were granted area codes for exports to the United States, Australia, the EU, Japan, and Singapore.
As a means of improving the quality of lychees for export, Hai Duong province has given priority to initiating training courses on technological transfer to farmers and conducting strict surveillance over planting areas in an effort to improve the product quality, while simultaneously boosting trade promotional activities.
As a means of helping domestic businesses penetrate these demanding markets, local authorities have worked alongside fruit exporters Rong Do Production - Trading - Service Co., Ltd with the intention to purchase 300 tonnes of lychee. In addition, Ameii Vietnam Joint Stock Company have initiated plans to buy 300 tonnes for export to Japan, Australia, Malaysia, the Middle East, and the EU.
Most notably, the Hai Duong Department of Agriculture and Rural Development is in the process of co-operating with the  Vietnam Trade Promotion Agency in order to continue the procedures which will serve to introduce Hai Duong lychees to the four e-commerce floors, including Alibaba.com, Voso.vn, Sendo.vn, and Lazada.vn.
The schedule is for Hai Duong lychees to go on official sale from May 15 through these e-commerce platforms.
This will also be the first year that the locality has deployed the consumption of lychees through e-commerce floors.
Furthermore, the lychee festival aims to introduce the locality's major agricultural products, with the event anticipated to be held in early June.
The Hai Duong Department of Industry and Trade has revealed that that since 2015, Hai Duong lychee products have made inroads into markets such as the US, Australia, France, Canada, Singapore, Japan, the Republic of Korea, the United Arab Emirates, and some European nations.
Airports serve about 1.5 million travellers during holidays
Domestic airports welcomed close to 1.5 million air travellers from April 28 to May 2, the peak travel period around the four-day public holidays marking the National Reunification (April 30) and May Day (May 1), according to the Airports Corporation of Vietnam (ACV).
On April 29 alone, Ho Chi Minh City's Tan Son Nhat International Airport served a record of nearly 108,500 flyers.
The average daily traffic during the peak time surged roughly 65 percent compared to that of March, with most airports seeing increases of 30 percent to 175 percent in passenger volume.
The ACV has directed its busiest airports, such as Tan Son Nhat, Hanoi's Noi Bai, Da Nang and Khanh Hoa's Cam Ranh, to well manage and coordinate the operation of flights so as to avoid congestion.
Only 66 million passengers passed through the country's airports in 2020, a 43.5 percent decrease given the impacts of the COVID-19 crisis and unfavorable weather conditions./.
Long An Province to join regional tourism organisation
The southern province of Long An will be admitted as the 130th member of the Tourism Promotion Organisation for Asia Pacific Cities (TPO), based in South Korea, in October.
The announcement was made at the 35th executive committee meeting of the organisation held in Busan, South Korea, earlier this year.
The participation of Long An in TPO is expected to promote local tourist destinations among international friends and cooperation in tourism among TPO member cities.
TPO was established in 2002 with the blessing of the 5th Asian-Pacific City Summit. The organisation was created to be an inter-city network to promote the exchanges and development of the tourism industry among major cities in the Asia-Pacific region. It also aims to encourage its members to work together to support the tourism industry.
Beginning with the membership of 25 cities from 13 countries in 2002, the organisation now has 130 member cities from 50 countries and 50 tourism institutes working on tourism, supporting the development of local tourism products and sharing tourism information among its members.
Other Vietnamese localities that are also TPO members include Bắc Ninh, Đa Lạt, Đa Nẵng, Ha Noi, Hải Phòng, HCM City and Vũng Tau.
Long An Province is the gateway from HCM City to the western provinces where the land stretches along the two rivers of Vam Cỏ Đong and Vam Cỏ Tay.
The province plays a bridging role between two important economic regions in the south due to its significant strategic position for trade and tourism.
Some of the popular tourist destinations in Long An Province include the ancient house with hundreds of pillars located in Long Hựu Đong Commune, Tan Lập Floating Village, Đồng Thap Mười eco-tourism area and Lang Sen Wetland Reserve.
Lang Sen Wetland Reserve was recognised as the seventh Ramsar site in Viet Nam and 2,227th of the world in 2015.
Established in 2004, the site, located in the south of Long An, still preserves the original ecosystem of the Đồng Thap Mười Wetlands in Viet Nam's Mekong Delta, similar to Tram Chim National Park in the southern Đồng Thap Province.
Spreading over 4,800ha, it is home to more than 150 kinds of plants and 140 kinds of birds, many of which are mentioned in the IUCN Red List of Threatened Species, such as the red-crowned crane, oriental darter and glossy ibis.
According to Long An Province's Department of Culture, Sports and Tourism, due to the effects of the COVID-19 pandemic, the number of tourists who visited the province in 2020 was estimated at 800,000, down by 57 per cent in compared with 2019, of which there were only 1,500 international visitors, a 94 per cent decrease.
In an effort to boost local tourism and reach the goal of attracting 920,000 tourists this year, Long An Province authorities have implemented various measures like investing in promotions, training human resources in tourism and improving tourism co-operation with other provinces.
Sabeco sees profit up 37 per cent
Viet Nam's largest brewer Sai Gon Beer-Alcohol-Beverage JSC (Sabeco) earned VND986 billion (US$42.6 million) in post-tax profit in the first quarter of this year, an increase of 37.5 per cent compared to the same period in 2020.
The figures were released in Sabeco's consolidated financial statements for the first quarter of 2021.
Net revenue reached VND5.86 trillion, 19 per cent higher than the same period last year. Gross profit was VND1.7 trillion, up by 26.5 per cent. Gross profit margin improved from 27.6 per cent to 29.2 per cent.
Along with the increase in revenue, selling expenses and administrative expenses increased by 51 per cent and 21 per cent, respectively.
Revenue from financial activities increased by 55 per cent to touch VND417 billion. Sabeco's profit improved sharply year-on-year thanks to a significant contribution from financial activities.
Inventories increased by more than 41 per cent to VND2 trillion. Inventory of finished products increased from VND623 billion to VND1 trillion, up 66 per cent.
Sabeco's cash and deposits, amount to VND16.35 trillion, accounting for nearly 61 per cent of its asset structure. The company continues to maintain short-term debt of just over VND880 billion.
This year, Sabeco targets revenue of VND33.49 trillion, up by 20 per cent. After-tax profit is expected to total nearly VND5.3 trillion, up 7 per cent compared to 2020. It plans to pay dividend at a rate of 35 per cent in cash.
PAN Group to raise stake in Khang An Food
 Vietnamese agriculture and food company PAN Group JSC (PAN) has announced plans to contribute VND100 billion (US$4.3 million) to Khang An Food Joint Stock Company to increase its ownership to 28.57 per cent of charter capital in this company.
Khang An Food currently has a charter capital of VND234 billion and expects to increase the figure to VND350 billion, with an aim of investing in a processing factory for shrimp and a shrimp farming area, in 2021.
As of March 31 this year, Sao Ta Food Joint Stock Company (FMC) owned 77.09 per cent of charter capital in Khang An Food Joint Stock Company. Meanwhile, PAN owns 64.45 per cent of the capital at Sao Ta Food.
This year, PAN hopes to achieve net revenue of VND10 trillion and an after-tax profit of VND419 billion, up 20.4 per cent and 25.7 per cent, respectively, compared to 2020.
Based in the southern province of Soc Trang, Sao Ta is involved in farming and processing prawn and shrimp. Its products are mostly sold in Japan, the US and Canada.
Khang An Food also operates in processing and preserving seafood, buying and selling food, preliminary processed agricultural products, production and export of agricultural products.
Vinacomin's revenue hits US$1.67 billion in four months
The Viet Nam National Coal - Mineral Industries Holding Corporation Limited (Vinacomin) sold nearly 13.9 million tonnes of coal in the first four months of 2021, earning VND38.61 trillion (US$1.67 billion).
The group recently reported it maintained stable production and basically completed its plans in April.
In April, Vinacomin produced 3.58 million tonnes of raw coal and sold 3.83 million tonnes.
Its production in the last four months hit 13.62 million tonnes, equivalent to 35 per cent of the yearly target.
Vinacomin contributed VND6.6 trillion ($286 million) to the State budget in the period. The corporation also ensured an average per capita income of VND12.7 million per month for its employees.
The corporation hopes to produce 3.3 million tonnes of raw coal and sell 4.3 million tonnes in May. 
Viet Nam attracts over $12b in FDI in four months
As of April 20, Viet Nam attracted US$12.25 billion in foreign direct investment (FDI), equivalent to 99.3 per cent compared to the same period last year, according to the Ministry of Planning and Investment's Foreign Investment Agency (FIA).
The four-month figure shows the FDI inflow was slowing down, said the FIA.
However, the agency noted the average size of newly-licensed projects and those registering to adjust their capital increased by less than $7 million per project in comparison with the same period last year.
The four-month period saw FDI projects disburse $5.5 billion, up 6.8 per cent over the same period last year, thanks to the recovery of production and business operations.
Currently, Viet Nam has 33,463 valid foreign investment projects with total registered capital of $394.9 billion. These projects disbursed $238.36 billion, or 60.4 per cent of the total valid registered investment capital, FIA reported.
FDI inflows to the country expanded by 18.5 per cent to $10.13 billion in the first three months of this year, the FIA said.
Of the figure, newly-registered capital reached $7.2 billion, up 30.6 per cent year-on-year, while adjusted capital increased by 97.4 per cent to $2.1 billion.
Meanwhile, capital contributions and share purchases by foreign investors stood at more than $1 billion, down 57.8 per cent from the same period last year.
The capital inflows cover 17 sectors, in which processing and manufacturing took the lead with $5.2 billion, accounting for 42.4 per cent of the combined investment, followed by electricity generation and distribution with $5.1 billion. Property and retail sectors accounted for $778 million and $464 million, respectively.
Among 67 countries and regions with newly licensed investment projects in Viet Nam during the period, Singapore was the largest source of registered capital with $4.8 billion, accounting for 39.6 per cent of the total registered capital, followed by Japan with $2.5 billion, accounting for 20.5 per cent of the total registered capital and the Republic of Korea (RoK) with nearly $1.5 billion, accounting for 12.1 per cent of the total registered capital.
Foreign investors have invested in 53 provinces and cities nationwide, in which Long An Province took the lead with total registered investment capital of nearly $3.3 billion. Can Tho and HCM City were second and third with over $1.3 billion and $1.1 billion, respectively.
Export turnover including crude oil is estimated at over $80.6 billion, up 38.7 per cent over the same period last year, accounting for 78 per cent of the country's export turnover. The import turnover is estimated at over $66.2 billion or an increase of 32.8 per cent compared to the same period last year. 
vietnam economy, Vietnam business news, business news
TAG: