BOT investors face debt, heavy losses for massive loans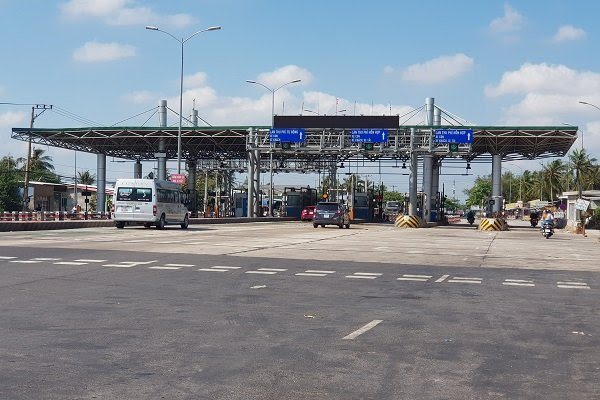 Vehicles travel through the BOT Cai Lay Toll Station. BOT investors are falling into a debt trap and incurring heavy losses due to a decline in toll fee collection, while they still have to pay interest for massive loans – PHOTO: TRUNG CHANH
HCMC – Build-operate-transfer (BOT) investors are falling into a debt trap and incurring heavy losses due to a decline in the toll fee collection, while they still have to pay interest for loans which accounted for 80% of the total value of each project and cost of road maintenance.
The BOT Cai Lay tollgate project in Tien Giang Province was set to resume toll collection in May after the toll collection at the toll station was suspended in 2017 following protests by drivers over the location of the tollgate.
Due to the suspension, the investors of the project have failed to earn revenue from the tollgate project since 2017, while they are still paying interest for a bank loan of VND1 trillion for the project. Due to no revenue from the project, the investors' loan for the BOT Cai Lay tollgate project was listed as bad debt.
Another BOT project making life hard for investors was the BOT National Highway 14 expansion project in Daklak Province. Though the project has generated revenue, the revenue has reached only 50%-60% of the financial plan.
The toll collection fell as vehicles used the State-invested Buon Ho Town Bypass as a replacement and the toll fees were not revised up in line with a roadmap signed previously in the contract. As such, the loan of VND669 billion for the project was listed as bad debt.
The country has a total of 107 BOT tollgates managed by the State and local authorities, with 66 tollgates under the management of the Directorate for Roads of Vietnam under the Ministry of Transport, according to a report made by the directorate.
The directorate said that most of the projects were expected to disrupt the financial plans as the toll fees were not raised as committed in BOT contracts.
In 2018, as many as 27 BOT projects saw the revenue fail to meet targets, while in 2020, 42 projects generated lower revenue than the targets.
Given the difficulties facing the BOT investors, the Ministry of Transport had earlier proposed some solutions to help them overcome the hardship, including allowing raising toll fees and using the State budget to make payments for BOT projects. However, the proposals were not approved by the National Assembly.
TAG: