Vietnam Trade Office protects ST24 and ST25 rice trademark in Australia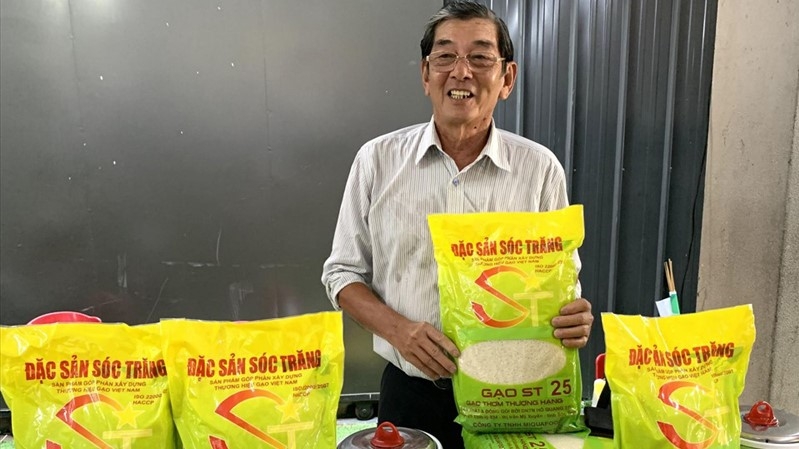 The rice varieties named ST24 and ST25 were successfully researched and produced by Ho Quang Cua and a team of Vietnamese scientists   
NDO – The Vietnam Trade Office in Australia has taken urgent measures to protect trademark rights for Vietnam's rice after T&L Global Foods Supply PTY LTD in Australia applied for protection of the ST24 and ST25 rice trademark as the "World's Best Rice", according to the Ministry of Industry and Trade.
Accordingly, the Vietnam Trade Office in Australia have discussed with Ho Quang Cua to coordinate actions.
The Vietnam Trade Office in Australia also contacted T&L, which stated it would "check the matter with the brand department".
The Trade Office have sent an official dispatch with attached documents and pictures to IP Australia to clarify that the rice varieties named ST24 and ST25 were successfully researched and produced by Ho Quang Cua and a team of Vietnamese scientists and have been granted a patent in Vietnam. The office is discussing with Australian lawyers on preparation for the next steps in accordance with IP Australia regulations.
The Office asked IP authorities in Australia to consider the matter, and to avoid possible disputes that could affect ST24 and ST25 rice export from Vietnam to Australia.
If things go badly, the Office will coordinate with Australian business networks, associations, newspapers in Australia and other exchange channels to implement the overall plan.
After the first three months of the year, rice export from Vietnam to Australia has increased 66% year-on-year, reaching more than US$ 4.7 million.
Previously, four foreign firms had registered for ST25 rice trademark protection in the US.

TAG: