Plans afoot to aid fortunes of state-owned enterprises
Acall has been made for Vietnam to revise the regulations on the management and use of state capital in enterprises to create state-owned groups that can operate more effectively and contribute more to national economic development 
in line with the direction of the 13th National Party Congress.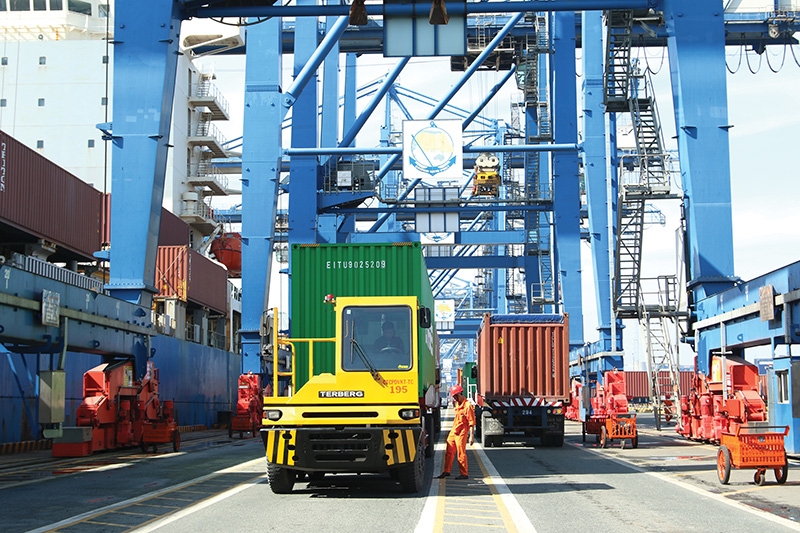 The plan to reshape SOEs like Saigon Newport Corporation into future leaders of their respective sectors will include 17 such corporations. Photo: Le Toan
With the new government cabinet taking shape last week, the Ministry of Finance's Corporate Finance Department (CFD) is making a new plan to offer a helping hand to state-owned enterprises (SOEs) in 2021 and beyond, before submitting it to the government for approval.
The plan will cover "many new points to boost reform" which the department's director Dang Quyet Tien said remain under discussion with aims to create a level playing field for all enterprises in the economy, as well as develop a team of huge SOEs playing a key role in driving the economy forward.
One of the most important tasks is to first revise the current Law on the Management and Use of State Capital Invested in Productive and Commercial Activities of Enterprises, which took effect in 2015.
According to the CFD, while the government has been trying to develop strong SOEs which play in a fairer environment and with more room created for private enterprises in that time, the law contains many vague points when it comes to implementation, making it hard to successfully reform many SOEs.
For example, one of the most controversial points in the current law is the loose definition of "state capital in enterprises" – meaning after the state invests capital into enterprises, the capital is understood to be either state capital or corporate capital. In another case, after investing capital into enterprises, the state focuses on managing both the capital and the enterprises' governance activities.
Also, the current law also has regulations on fixing cap salaries and bonuses for positions at SOEs, not subject to the performance effectiveness of the enterprises.
"For instance, if a leader of an SOE creates a huge profit for the enterprise, his salary and bonus cannot be raised. This is unfair as it discourages the firm's leader from becoming more creative, while he has to bear all responsibilities to how the business performs," Tien said at last week's workshop in Hanoi on reviewing five years of implementing the law. "Thus, these obstructions in the law are making it difficult for enterprises to use the capital for investment activities and enhance the creativity of enterprises. The law needs to be revised."
The Ministry of Planning and Investment is planning to include seven key SOEs with a combined total asset value of over VND20 trillion ($870 million) for a pilot project on developing them to fuel the development of the economy and of other enterprises in their respective sectors.
These seven picked (Viettel, VNPT, MobiFone, Electricity of Vietnam, PetroVietnam, Saigon Newport Corporation, and Vietcombank) fit the bill in terms of having registered capital of over VND1.8 trillion ($78.3 million); having at least 30 per cent share of their prospective markets with the potential to expand this to a controlling stake; having an efficient corporate governance model; and applying high technology throughout their operations. Moreover, they operate in sectors with high spillover effects.
The initiative is also aimed to include a total of 17 groups and corporations in the future.
According to the Political Report - the most important document adopted by the Central Party Committee at the recent 13th National Party Congress, from now until 2025 all SOEs will continue being reshuffled, with them investing in only key fields of the economy and in geographical areas important in security and defence, and in the fields not invested by other economic sectors.
"Reshuffle of SOEs must be open and transparent, especially in equitisation and divestment. By 2025, the reshuffle must be completed, with loss-making groups and corporations to be addressed fully," the report said.
The state will exclusively invest in only four fields – provision of indispensable products and services for society; service of defence and security; natural monopolies; and large-scale high-tech application, with major investment creating momentum for rapid development of the economy's other fields.
Money collected from equitisation and divestment is to be managed in a concentrated fashion and used only for national key infrastructure projects and for supplementing charter capital for a number of SOEs operating in these four fields.
According to the CFD, in the 2011-2019 period only 679 SOEs were equitised and divested, with total money collected being $13.1 billion. Almost no SOEs saw such activities in 2020. In the first quarter of 2020, nearly $87 million was collected from equitisation and divestment.
VIR
TAG: