Transport Ministry wants four localities to invest in Ring Road No. 3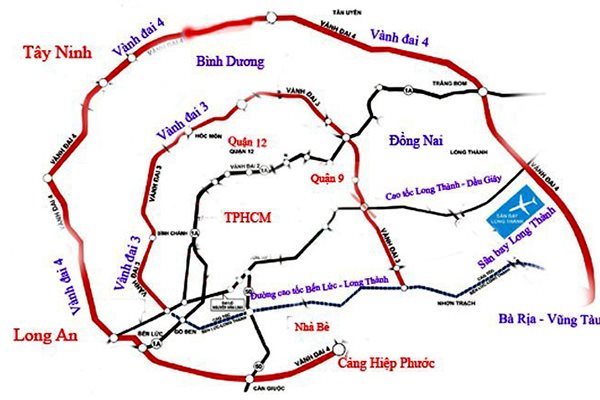 A map shows the direction of Ring Road No. 3. The Ministry of Transport wants four localities to develop sections of the Ring Road No. 3 project - PHOTO: LE ANH
HCMC – The Ministry of Transport has asked HCMC, Dong Nai, Binh Duong and Long An to determine whether they can invest in sections of the Ring Road No. 3 project passing through their localities and propose execution plans if they agree to develop the sections.
According to the ministry, due to the necessity to develop the ring road early and the tight State budget, it called for the involvement of localities in the project.
The ministry has updated the required investment and construction and site clearance costs in each locality.
If localities agree to invest in the sections of Ring Road No. 3, they should work out plans to exploit the land fund along the road and propose State support if needed. If they propose the Ministry of Transport take charge of the construction of the project, they must state whether they can take responsibility for the entire site clearance cost.
Relating to the project, the Dong Nai government on April 12 held a meeting with the My Thuan Project Management Board under the Ministry of Transport to prepare for the road section in the province.
The section in Dong Nai has two segments--1A and 2A. The 1A segment will have a total length of over 8.7 kilometers and start at an intersection with provincial road 25B in Nhon Trach District and end at an intersection with the HCMC-Long Thanh-Dau Giay Expressway in HCMC's Thu Duc City.
The Ministry of Transport has approved the prefeasibility for the segment with an estimated investment of VND5.3 trillion, sourced from official development assistance loans and the reciprocal capital. Work on the 1A segment will start next quarter.
The 2A segment was designed to be some five kilometers long, start at an intersection with Ben Luc-Long Thanh Expressway and end at an intersection with provincial road 25B.
According to the Ministry of Transport, the Ring Road No. 3 project has an important role in developing transport services between HCMC and the southern key economic zone.
Under a decision approved by the prime minister, the project would be completed before 2020. However, only 16.3 of 89 kilometers of the road have been put into service.
The required investment for the project was estimated at over VND60 trillion, including VND32.7 trillion for construction and VND27.3 trillion for site clearance.
TAG: