Blue-chip stocks behind VN-Index decline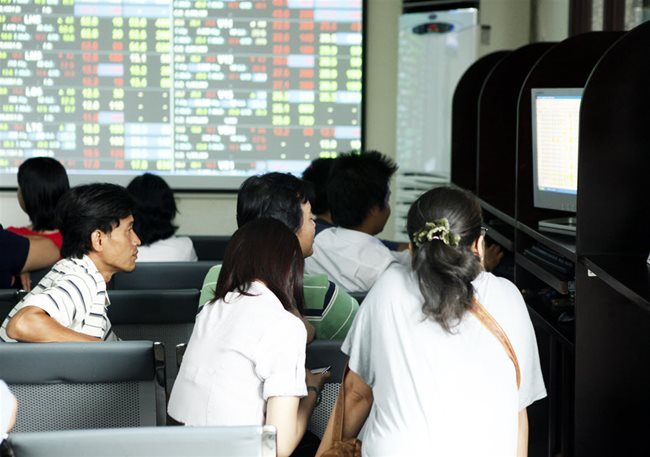 Investors watch stock prices at a securities company in HCMC. The VN-Index drops 8.62 points, or 0.69%, to close at 1,247.25 points today, April 15 - PHOTO: TRAN NGOC LINH
HCMC - The losses of many blue-chip stocks on the Hochiminh Stock Exchange today, April 15, drove the VN-Index down at the close.
With 141 gainers and 294 losers, the benchmark index lost 8.62 points, or 0.69%, at 1,247.25. More than 806.4 million shares, valued at some VND20.6 trillion, were transacted on the southern bourse, down over 6% in volume but up nearly 7% in value over the session earlier.
There were more than 35 million shares traded in block deals.
Among blue-chip stocks, steelmaker HPG edged up 2.8% at VND54,400 and property developer NVL picked up 2.4% at VND102,500.
Real estate firm VIC and its housing affiliate VHM and jewelry company PNJ reported an increase of only 0.5%-0.7% each.
Consumer goods company MSN dropped 0.7% at VND100,000 in the afternoon session while it rose 2.2% in the morning session.
Other blue-chip stocks that posted a significant decline included brokerage firm SSI and lender STB, which fell 3.1% and 2.4% at VND13,400 and VND22,350, respectively. In addition, electricity firm POW, bank stock TPB and retailer VRE slid 2.9% each.
STB led the southern bourse in terms of liquidity with 36.9 million shares changing hands, followed by HPG with 32 million shares.
Among small and medium stocks, real estate company HAR tumbled 7% to its floor price of VND6,420.
Media group YEG also plunged to its floor price of VND23,650. This was the fifth consecutive session that YEG has fallen to the floor price and the 10th straight session that it has reported a decline.
On the northern bourse, the HNX-Index dipped below the reference level before closing the day in the green. The index added 1.29 points, or 0.44%, at 296.12 points. Trading volume and value reached over 157.3 million shares and nearly VND2.9 trillion, respectively.
Service company THD was the strongest pillar on the bourse as it rose 2.81% at VND201,500. Lender SHB bounced back from a 0.4% decline in the morning session to go up 1.2% at VND26,000 at the end of the day.
Most other stocks fell, such as securities company SHS tumbling by 3.5%, BVS, another securities firm, by 3.7% and property enterprise CEO by 3.2%.
SHB was the most actively traded stock on the stock exchange with over 20.8 million shares transacted, followed by SHS with 10.82 million shares.
TAG: