Wood exporters face array of obstructions
An oversupply of undervalued certified timber and a lack of interest from local wood processors currently stand in the way of Vietnam's export plans to increase its foothold in Western markets.
 However, German assistance might help solve some of the issues that forest growers are facing.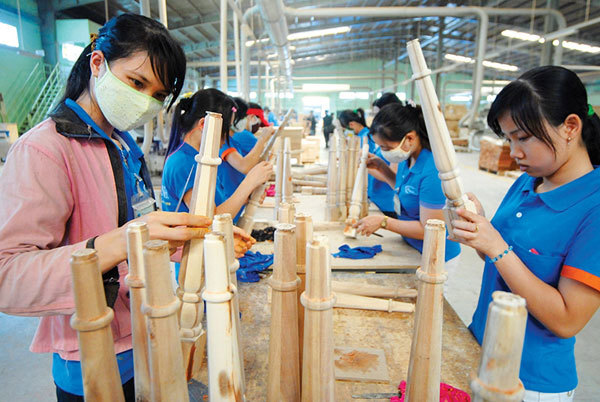 Wood exporters face array of obstructions. Photo: Le Toan/VIR

Data from associations like VIFOREST, FPA Binh Dinh, HAWA, BIFA, and Forest Trends shows that Vietnam's import value of timber and its products reached about $2.55 billion in 2020, with a turnover similar to 2019. Logs, sawn timber, and artificial boards were the main groups imported into Vietnam to serve the processing needs of domestic consumption and for exports.
The five main supply markets for Vietnam are China, the United States, Cameroon, Thailand, and Chile. The import value from these five markets reached $1.57 billion, accounting for over 61 per cent of the total import value into Vietnam. China's import turnover reached $846 million, accounting for 33 per cent of total imports into Vietnam, up 28 per cent compared to 2019.
In 2020, Vietnam imported over 214,000 cubic metres of timber worth $71.6 million and 597,500cu.m of sawn timber worth $221.8 million from the US. Meanwhile, imports from Cameroon reached $215.96 million, down 24 per cent compared to 2019. Vietnam's imports from Thailand reached $120.43 million, up 9 per cent compared to 2019. Imports from Chile meanwhile reached $66.78 million, down 17 per cent compared to 2019.
One of the most important timber policies to be issued by the government in 2020 was the decree regulating the Vietnam Timber Legality Assurance System (VNTLAS). Imported timber control is one of the central parts of the decree, where the management of imported timber is carried out according to criteria that identify whether a country is in a positive or negative geographic area, and which type of timber is risky.
To realise the provisions of this decree, in November, the Ministry of Agriculture and Rural Development announced a list of wood types imported into Vietnam and another list of active geographical regions for wood exports to Vietnam.
Accordingly, 322 species of wood were identified for import into Vietnam and 51 countries were identified in active geographical areas. Timber species and supplying countries not on this list will be considered as risky. According to the VNTLAS, enterprises importing risky timber into Vietnam need to perform due diligence, with legal evidence proving the legality of imported timber. 
Thanh Hoa Co., Ltd., one of the largest wood material suppliers in Vietnam, has no way of purchasing timber certified by the Forest Stewardship Council (FSC) – an international non-profit, multi-stakeholder organisation established in 1993 that promotes responsible management of the world's forests – from northern provinces due to problems with regulations and high freight rates.
Vietnam owns nearly 300,000 hectares of FSC wood, but "the surplus of such wood is a big problem," commented Tran Thien, director of Thanh Hoa. He calculated that the export of outdoor wood products accounts only for about $300 million, about 12,000 FSC wood blocks, equivalent to about 100,000ha of plantation. Meanwhile, most wood furniture processors do not buy FSC wood.
For many years, Vietnam has been developing a certified wood material zone with international support. However, FSC afforestation is losing its sense of sustainability as forest owners cannot get any money from their FSC timber. The actual value of FSC timber is falling sharply, down to 5 per cent of previous prices, and even continues its downward trend to a lower level, with half of forest owners only getting about 3 per cent.
Thien said that for FSC, the evaluation cost for foreign organisations is very high, with cost for initial evaluations coming close to $100,000, and the annual assessment also amounting to over $5,000 – a huge expense for forest growers in the context of a shrinking income.
In the central province of Quang Ngai, the FSC reforestation area has been following the World Bank's international standards since 2005, and many growers have dropped the annual FSC assessment to save money.
Thien commented. "Forest owners are often too small in the whole chain to profit from FSC timber."
Meanwhile, the sustainability of the wood production, processing, and export chain only functions when processors prioritise FSC timber. However, they have to pay at least 2-3 per cent of the product value upfront. Afterwards, FSC growers have to also afford the rest of the cost, such as assessing and transporting the timber to factories.
The waste of FSC raw materials is occurring while Vietnam has been warned about issues in legal timber supply from countries that import wood products. Meanwhile, FSC timber is believed to be an effective solution to deal with risks of wood origin. 
The right mechanism
Vietnam's major goal is to manage forests sustainably and harmonise international regulations on legal timber sourcing. Do Quang Tung, head of the Forestry Project Management Unit under the Ministry of Agriculture and Rural Development, admitted that "area fragmentation is one of the reasons that the country faces difficulties in applying international experience for greater benefits and to reduce the cost of the FSC assessment for growers."
Tung realised that for years Vietnam has been moving towards sustainable forest management, but still mainly relies on the support of international organisations. Planted forests in several provinces, including in the Central Highlands province of Kon Tum, were abandoned after their funding ended. The lack of a master plan for the development of certified raw materials, as well as the intensification of large timber material afforestation, has caused unmet demand for raw materials for the wood processing and export industry.
Global environmental pressure forces large corporations to spend money on FSC, though without much economic significance. In Vietnam, the value is declining, but Tung said FSC is still "one of the criteria to determine legality in Vietnam's wood import markets, including the European Union and the United States."
Hoang Thanh, agricultural programme manager for the EU Delegation to Vietnam, said that the EU's timber regulations recognise the legality of timber and its products with Forest Law Enforcement, Governance and Trade licences that have been verified through control systems of several partner countries who agreed upon the same standards with the EU. Thanh said, "Licensed timber and products thereof are not subject to the accountability under the EU timber regulations." 
Outside support
To counter some of the issues, the German government is supporting Vietnam with around $47 million, including commercial loans and grants, for certified afforestation. The Vietnam Administration of Forestry, which is profiting from the support, is now expected to operate in the four central provinces of Binh Dinh, Thua Thien-Hue, Quang Nam, and Quang Ngai, which are all supplying wood and timber materials.
Similar to other international support, the German government can help Vietnam expand the area of certified forests, but several issues need to be addressed.
"This time, it is advisable to choose a province surrounding the wood consuming provinces, such as Dong Nai, Binh Duong, Binh Phuoc, Long An, and Ca Mau, which are reasonable for timber transportation to Ho Chi Minh City," Thien of Thanh Hoa commented.
Tung said, "The hardest thing right now is to decide which province borrows and has to pay following the new official development assistance mechanism."
Provinces can borrow about $12 million from this source to improve the capacity of FSC growers through appropriate mechanisms, something that all provinces want to do but many remain concerned about. 

Ha Cong Tuan - Deputy Minister of Agriculture and Rural Development
 
The export target for this year stands at $15 billion, with the turnover expected to increase by 14-15 per cent compared to 2020, but the problem of raw materials must be solved first.
Currently, domestic timber sources are speeding up their FSC certifications. As the origin of imported wood is strictly regulated in foreign markets, this process must be strictly controlled to ensure the legal origin of wood and timber.
The income per unit of planted forest has tripled over the past 15 years thanks to the development of the wood processing industry. At that time, plantation timber was valued at only $17.40 per cubic metre. Now, the minimum value reaches about $43 per cu.m – which represents one of the achievements of the wood processing industry.
Some producers are willing to share their benefits through investments in raw material areas, the assessment of sustainable forests, and a commitment to product sales. However, wood processors are never willing to share more profits for growers, apart from certain price mechanisms.
The country's policy regime is appropriate and has been increasing both forest area and productivity. People ask for more land to plant forests, which means that they are satisfied with the mechanism. Of course, in some places, the life of forest planters is still difficult, but this is a general issue of the entire economic system, not just the forestry sector.
 VIR
TAG: