Over VND27 trillion sought for key roads leading to seaports in HCMC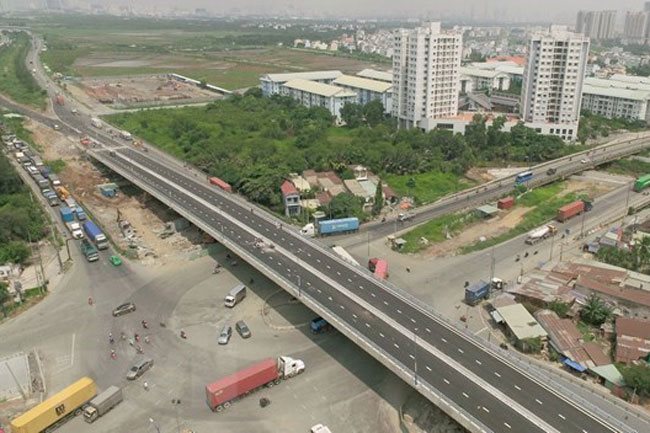 A view of My Thuy Intersection in Thu Duc City. The HCMC Department of Transport has proposed developing six traffic projects leading to seaports in the city with an estimated investment of over VND27 trillion - PHOTO: VNA
HCMC – The HCMC Department of Transport has proposed the municipal government develop six key traffic infrastructure projects leading to the seaports in the city with an estimated investment of over VND27 trillion.
The proposal was made to come up with a plan to allocate the mid-term public investment capital in the 2021-2025 period, which will be submitted to the Government and the National Assembly, the local media reported.
Among the six projects, the My Thuy Intersection in Thu Duc City requires an investment of more than VND3.6 trillion and is under construction. The project has entered the second phase, in which the My Thuy 3 and Ky Ha 4 bridges, an overpass for vehicles traveling from Cat Lat Port to Phu My Bridge and a tunnel are being developed.
However, the site clearance work for the project has been separated into a subproject, resulting in an investment hike.
In the first phase of the project, which cost VND838 billion, a tunnel and a flyover have been put into service. The remaining items, once in place, are expected to reduce traffic congestion and accidents and improve the cargo transport along Dong Van Cong, Vo Chi Cong and Nguyen Thi Dinh streets to Cat Lai Port in Thu Duc City.
The municipal Department of Transport also proposed prioritizing capital for two sections with a total length of six kilometers of Ring Road No. 2 in Thu Duc City. The first section, which is 3.5 kilometers long and stretches from Phu Huu Bridge to Hanoi Highway, will need VND9 trillion, while the second section, which is 2.5 kilometers long and connects Binh Thai Intersection on Hanoi Highway to Pham Van Dong Street, including the construction of an intersection on Pham Van Dong Street and Ring Road No. 2, will cost nearly VND5.6 trillion.
The two sections are important to ease traffic on Hanoi Highway and National Highway 1 and boost the connection among ports in Thu Duc City, such as Phu Huu, Truong Tho and Cat Lai.
In addition, more than VND7 trillion has been sought for a 6.7-kilometer section of the North-South road from Nguyen Van Linh Street to Ba Chiem Bridge in districts 7 and Nha Be.
The department has also suggested developing two sections of the eastern ring road in Thu Duc City, including one spanning from Phu My Bridge to My Thuy Intersection and another from My Thuy Intersection to Nguyen Duy Trinh Intersection. The two sections, which are 2.9 and 2.2 kilometers, require an estimated investment of over VND1.2 trillion and VND1 trillion, respectively.
The three projects are essential to connect to Hiep Phuoc Port in Nha Be District and Cat Lai Port.
The main seaports in HCMC are located in districts 4, 7, Thu Duc and Nha Be and connected to many key roads with a total length of over 80 kilometers. The volume of cargo transported through seaports has exceeded the figure forecast for 2025, while the cargo is mainly transported on roads, causing an overload on Huynh Tan Phat Street in District 7 and Mai Chi Tho, Dong Van Cong, Nguyen Thi Dinh and Nguyen Duy Trinh streets in Thu Duc City.
Late last year, a plan to collect fees for using infrastructure facilities and public services at seaport terminals in the city was approved. The plan will be deployed from July this year and is expected to help bring in more than VND3 trillion a year. The fee revenue will later be used to develop the road system near seaports.
According to the municipal Department of Transport, roads near seaports should be developed to achieve a consensus and effectiveness in the collection of infrastructure fees at seaports.
If the capital for the six traffic projects cannot be sourced from the mid-term public investment plan in the 2021-2025 period, the department proposed suspending or extending the investment in projects that are not urgent to ensure capital for the six projects mentioned above.
TAG: